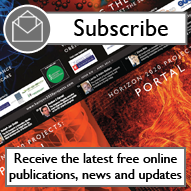 ERC award grants to 325 researchers

The European Research Council (ERC) has announced the awarding of its Starting Grants ...

ERC funds crop immunity project

The European Research Council (ERC) has announced a €1.5m starting grant to investig...

Light-listening photonics could detect disease

A new skin disease detection technique, termed 'optoacoustic mesoscopy', could hel...

ComaWare project could enable communication

Experimental technology developed under the Horizon 2020-funded ComaWare project could...

Germany joins ELIXIR consortium

Germany has become the latest country to join the ELIXIR consortium following ratifica...

Gold could have formed from star collision

A team of researchers at the Aristotle University of Thessaloniki, Greece, have been s...

Project profile: JAXPERTISE

Through EU funding, Professor Natalie Sebanz of the Central European University (CEU) ...

EU calls for independent experts

The European Commission is calling for independent experts to analyse and evaluate Hor...

Cities studied for urban planning

Ten European cities were studied to provide guidance for mapping urban ecosystems, inc...

Breath test disease detection hopes

Breathtec Biomedical Inc. has stated its aims to improve and further develop breath te...

ERC announces record 2017 budget

The European Research Council (ERC) has announced its 2017 grant competitions, with a ...

Science calls for commission dialogue

The Initiative for Science in Europe (ISE) and EuroScience have called for inclusive a...

Report reveals ERC research impact

An independent pilot study, revealed today at the Euroscience Open Forum (ESOF) in Man...

Irish Research Council awards €33.7m to researchers

Last year around 1,400 researchers were awarded €33.7m by the Irish Research Council...

Horizon 2020 update supports competitiveness

Building upon the success of the 2015-2016 work programme, H2020 incorporates new and ...