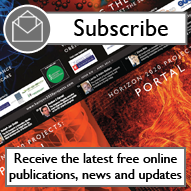 Project enhances European aviation

Researchers at the EU-funded ASHLEY project are utilising distributed modular electron...

Project to develop biocomputers

The launch of a five-year Horizon 2020 project has gained €6.1m in funding to build ...

Study suggests investment in innovation is crucial

According to a report by the European Commission, public funding of research and innov...

Freiburg leads smart city initiative

Under the direction of the city of Freiburg im Breisgau, Germany, over 60 partners fro...

Project developing intelligent public transportation

The Horizon 2020-funded Galileo Enhancement as Booster of the Smart Cities (GHOST) pr...

Funding to progress diabetes monitor

RSP Systems, a Denmark-based non-invasive human diagnostics specialist company, has be...

Researchers to work on next-generation IoT

Dublin City University (DCU), Ireland, has been awarded €4.6m under the Horizon 2020...

Project to recharge electric vehicles whilst on the road

A unique wireless electrification system is to be piloted on a bus route in Tel Aviv, ...

Company gains grant to enrich video apps

Based in Dublin, Ireland, technology firm Axonista has been selected for a €1.7m gra...

Welsh-led engineering projects gain EU funding

As Wales achieved its €50m EU research and innovation goal last October, two project...

Research tool makes energy planning easier

An EU-funded research project has launched a tool that enables European governments an...

HERA radio telescope attracts more funding

The Hydrogen Epoch of Reionization Array (HERA) radio telescope has been awarded a gra...

Researchers develop device for diagnosis of oesophageal cancer

The Institute of Biological and Medical Imaging (IBMI) at Helmholtz Zentrum München, ...

Researchers aim to halve CO2 footprint of carbon fibre

Researchers from across Europe, led by the University of Limerick (UL), Ireland, have ...

Supercomputer weather system 'heads to Italy'

Bologna, Italy, looks set to gain the next-generation supercomputer that will drive Eu...