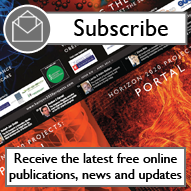 MCA conference announced

A conference focusing on the role and changes regarding the Marie Curie Actions under ...

Keeping researchers in Europe

The European School of Molecular Medicine's Dr Maria Rescigno and Francesca Fiore ou...

25,000 to receive MCA grants

The Marie Curie Actions (MCAs) will award grants to a total of 25,000 researchers unde...

Thinking globally

Androulla Vassiliou, European Commissioner for Education, outlines the importance of i...

VAMPIRE wins 50th EID

The European Commission has awarded the 50th European Industrial Doctorate research gr...

MCA funds Canadian war study

EU funding will help fund an investigation into a key piece of Irish history at a univ...

€16m for Irish researchers

The Irish government has announced funding totalling nearly €19m for 353 postgraduat...

Asking Marie

Led by Imperial College London, the League of European Research Universities outlines ...

MCAs assist climate project

The Marie Curie Actions have assisted in research tackling climate change. Scientists ...

New MCAs defined

The European Commission has released more information on the role the Marie Curie Acti...

Generation Y

Dr Simon Kimber, a post-doctoral researcher at the European Synchrotron Radiation Faci...

Marie Curie in H2020

Androulla Vassiliou, the Commissioner for Education, Culture, Multilingualism and Yout...

Vassiliou visits CERN

European Commissioner Androulla Vassiliou, responsible for the Marie Curie Actions, ha...

Extra funds for MCAs

The European Commission has said the Marie Curie Actions will receive extra funding un...

MCA deadline

The European Commission has invited scientists to bid for the final Marie Curie Action...