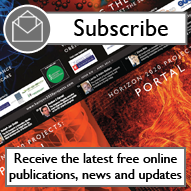 UK achieves space innovation success

The University of Strathclyde, UK, has emerged as the winner of Europe's biggest spa...

Disruptive healthcare technologies

Ahead of the Disruptive Technologies 2016 conference, Portal spoke to White October'...

Project examines Europe's trauma-exposed populations

A new research project, 'COllaborative Network for Training and EXcellence in psycho...

Paris calls for climate experiments

The City of Paris and Paris-based economic development and innovation agency Paris&amp...

A globalised effort

Dr Elizabeth Pollitzer discusses the new mission for Gender Summit 9 Europe: the globa...

EU clarifies gender studies position

In response to a petition launched by the Gender Summit, the European Commission has c...

ERC launches 2017 Consolidator Grant call

The European Research Council (ERC) has published the 2017 Consolidator Grant call, wi...

UK student becomes MSCA fellow

A student from the University of Cumbria, UK, has the opportunity to study a PhD at t...

Drug development project empowers patients

Uppsala University, Sweden, and Swiss pharma giant Novartis are leading the PREFER res...

Taking the initiative

Professor Marja Makarow discusses some of the main initiatives in which she was...

ERC helps Brazilian researchers

An initiative that will foster international collaboration between top Brazilian and E...

Tidal turbine installed at Orkney

The world's most powerful tidal turbine has been installed on its moorings at the Eu...

Collagen Solutions report R&D progress

Collagen Solutions, which manufactures medical grade collagens in Glasgow, Scotland, h...

MEPs call for more funding

The Budgets Committee has demanded more funds to help young people into jobs, to boost...

MOF receives grant to tackle global warming

Queen's University Belfast's spinout, MOF Technologies, has received €317,00...