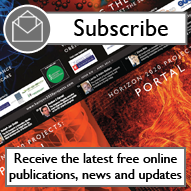 EIT Digital accelerates cloud content

The drive to accelerate the European Trusted Cloud has progressed as European cybersec...

RSP Systems receives glucose monitor grant

Human diagnostics company RSP Systems AS has been awarded a €2.4m grant as part of t...

Graphene colours aid screen pixels

Researchers from the Graphene Flagship have found a new potential application for grap...

AMBER awarded new research contract

The AMBER centre at TCD, Ireland, has won a contract to develop a new class of magneti...

Enhancing STEM education

Dublin City University's Dr Gabriel-Miro Muntean introduces NEWTON, an innovative ne...

Firing up 5G

EIT Digital's director of research, Fabio Pianesi, introduces SoftFIRE, a programme ...

Researchers alleviate cancer drug effects

The Wihuri Research Institute (WRI) and the University of Helsinki, Finland, say gene ...

IBEX robot to revolutionise UK farming

A Leicester county inventor has designed a robot that could revolutionise UK farming....

Project to replicate brain's neural networks

Aston University, UK, has launched MESO-BRAIN, a stem cell research project which aims...

Bacteria in bricks could create 'Living buildings'

According to researchers designing construction materials, inserting bacteria into bri...

ITS project ready for test stage

Researchers are testing new Intelligent Transportation System (ITS) solutions in six E...

Mkango's Phalombe licence renewed

The Government of Malawi has granted dual-listed rare earths junior Mkango Resources a...

Canadian researchers to join ERC

A new deal between Canada and the EU has been concluded to encourage talented Canadian...

Irish start-up leads diabetes prevention

Nuritas, founded by a Trinity College mathematician, is set to run trials in Ireland o...

European CTO of the year announced

Ian Roberts, Chief Technology Officer (CTO) of Bühler, and Michael Thiel, Chief Scien...