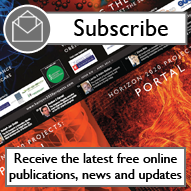 Calls for nanotech safety

The commercial use of nanotechnology is continuing to grow and expand, as are calls to...

Clinical neurophysiology research perspectives

Professor Walter Paulus of the European Chapter of the International Federation of Cli...

Anticancer drug halts Ebola virus molecule

A team of scientists from the University of Oxford, UK, has mapped the structure of th...

Photonics largely unaffected by Brexit

UK photonics companies reliant on EU funding may be affected by the Brexit. For the mo...

TxCell "won't partner with UK labs"

The CEO of a leading biotech company says it cannot now consider collaborations with U...

Digital deliberations

Willem Jonker, CEO of EIT Digital, spoke to PEN about the challenges facing digital in...

High-tech turf improves pitch durability

Synthetic microfibres and cork are being combined with grass to provide a compound tha...

Brussels hosts MSCA forum

On 29 June a forum will take place in Brussels, Belgium, that focuses on supporting re...

RAS urges continued EU science platform

The Royal Astronomical Society (RAS) has issued an official statement urging the UK go...

Set in Stone

An expert in ancient linguistics, Dr Philippa Steele of University of Cambridge, UK, t...

KIT secures highest third-party funding

The Karlsruhe Institute of Technology (KIT) is the most successful German university u...

Graphene-based computers could accelerate processing

New research shows how the interaction between hyper-thin carbon structures and light ...

Graphene used for flexible lighting

Researchers from the University of Exeter, UK, have pioneered the use of graphene to d...

JRC begins Black Sea project

A major oceanographic campaign led by the EU's Joint Research Centre (JRC) has begun...

EU expects 130,000 bioeconomy jobs

The EU is expecting a bioeconomy market worth €45bn, creating around 130,000 jobs by...