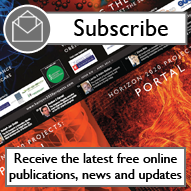 Manchester rises in university world rankings

The University of Manchester, UK, has risen six places in global rankings, confirming ...

Project profile: 3DUNDERWORLD

Cypriot scuba diver Charalambos Poullis considered the difficulties for marine archaeo...

Bacteria could boost graphene semiconductivity

A team of researchers at the University of Illinois (UoI), Chicago, US, has found a wa...

EU calls for independent experts

The European Commission is calling for independent experts to analyse and evaluate Hor...

Cities studied for urban planning

Ten European cities were studied to provide guidance for mapping urban ecosystems, inc...

The future is floral

Pan European Networks undertook some research into the unusual development of robotic ...

IR Prize nominations available

The Innovation Radar (IR) is an initiative supported by the European Commission to ide...

Cray supercomputers pilot JULIA system

Cray, a German supercomputing company, is piloting its JULIA system in the Pre-Comme...

Transport and space projects gain momentum

VTT Technical Research Centre of Finland, an innovation support company with projects ...

Peacehack challenges hate speech

Peacehack takes tackling hate speech as its 2016 theme as it attempts to utilise techn...

China develops graphene battery

A faster, more efficient graphene battery called 'G-King' has been developed in Ch...

Project focus: Flora robotica

Flora robotica is a four-year project running from April 2015 – March 2019 and fund...

Measuring blood flow helps diagnose dementia

Imaging experts are developing technologies that can diagnose dementia before symptoms...

Breath test disease detection hopes

Breathtec Biomedical Inc. has stated its aims to improve and further develop breath te...

Moedas advocates human-centric science

Carlos Moedas, the European Commissioner for research, innovation and science, has tol...