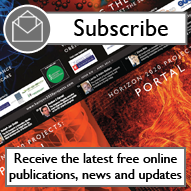 Graphene sieve makes seawater drinkable

New research has demonstrated the potential of providing clean drinking water to milli...

Researchers develop printable graphene inks

New research has discovered that ink can be used to successfully ink-jet printable ele...

Ameland adopts bird-friendly street lighting

Philips Lighting has announced a bird-friendly connected light-emitting diode (LED) s...

Imaging project offers applications in cancer diagnostics

Innovative medical device contractor ITL Group has partnered with King's College Lon...

Graphene sensor has potential for thermal imaging

According to researchers from the Cambridge Graphene Centre, graphene can be harnessed...

Project enhances European aviation

Researchers at the EU-funded ASHLEY project are utilising distributed modular electron...

ERC suggests €4bn budget rise by 2027

Ahead of its tenth anniversary, European Research Council (ERC) president Jean-Pierre ...

Project to develop biocomputers

The launch of a five-year Horizon 2020 project has gained €6.1m in funding to build ...

Study suggests investment in innovation is crucial

According to a report by the European Commission, public funding of research and innov...

Freiburg leads smart city initiative

Under the direction of the city of Freiburg im Breisgau, Germany, over 60 partners fro...

Project developing intelligent public transportation

The Horizon 2020-funded Galileo Enhancement as Booster of the Smart Cities (GHOST) pr...

Funding to progress diabetes monitor

RSP Systems, a Denmark-based non-invasive human diagnostics specialist company, has be...

Researchers to work on next-generation IoT

Dublin City University (DCU), Ireland, has been awarded €4.6m under the Horizon 2020...

EULIFE calls for an increased ERC budget

The European Research Council's (ERC) alliance of European research centres in life ...

Aquafeeds project enters next phase

Animal nutrition company, BIOMIN, has announced the start of its experiment work in th...