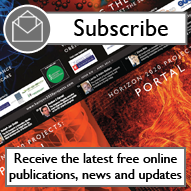 NUIG research projects receive funding

Eight research projects underway at NUI Galway, Ireland, have been awarded a total of ...

Project to leverage potential of imaging biomarkers

The Innovative Medicines Initiative (IMI) has approved the five-year project TRISTAN f...

EIT Digital launches 'Robot IoT Interface'

EIT Digital has announced the launch of 'Robot IoT Interface', a new activity with...

Irish minister welcomes H2020 success

The Irish minister of state for training, skills and innovation, John Halligan, has we...

UK regions dominate H2020 funding

Recent figures have indicated that London and southeast England, UK, have collectively...

EIC to get Horizon 2020 'top-up

The European Innovation Council (EIC) is to receive €50m of an extra €200m expecte...

Commission supports self-driving technologies

The European Commission has confirmed its support for the fast deployment of self-driv...

SME develops dual-use technology

Italian SME Signo Motus has developed a fluid that when subjected to an electric field...

Food safety innovation wins Photonics21 award

A report on research into optical techniques to improve food safety by detecting possi...

Researchers develop yellow fever and rabies vaccine

The RABYD-VAX consortium, led by the University of Leuven (KU Leuven), Belgium, has be...

Graphene sieve makes seawater drinkable

New research has demonstrated the potential of providing clean drinking water to milli...

Researchers develop printable graphene inks

New research has discovered that ink can be used to successfully ink-jet printable ele...

Ameland adopts bird-friendly street lighting

Philips Lighting has announced a bird-friendly connected light-emitting diode (LED) s...

Imaging project offers applications in cancer diagnostics

Innovative medical device contractor ITL Group has partnered with King's College Lon...

Graphene sensor has potential for thermal imaging

According to researchers from the Cambridge Graphene Centre, graphene can be harnessed...