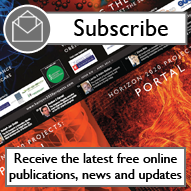 MSCA researchers selected to showcase EU actions

To mark the 100,000th fellow benefitting from the Marie Skłodowska-Curie Actions (MSC...

HERA radio telescope attracts more funding

The Hydrogen Epoch of Reionization Array (HERA) radio telescope has been awarded a gra...

Researchers develop device for diagnosis of oesophageal cancer

The Institute of Biological and Medical Imaging (IBMI) at Helmholtz Zentrum München, ...

Researchers aim to halve CO2 footprint of carbon fibre

Researchers from across Europe, led by the University of Limerick (UL), Ireland, have ...

Supercomputer weather system 'heads to Italy'

Bologna, Italy, looks set to gain the next-generation supercomputer that will drive Eu...

AI company closes seed round funding

Dublin-based software firm Artomatix has closed a €2.1m seed round with investors ...

Breast cancer test receives vital funding

OncoMark, a University College Dublin (UCD), Ireland, spin-out company focused on the ...

Supercomputer to provide access to water, energy and the internet

A new machine called the 'Watly' is to offer solutions for ensuring access to clea...

Funding to support 100 high-value research jobs

Ireland has received a further €10m in funding under the Horizon 2020 programme to c...

MSCA to fund its 100,000th fellowship

Marie Skłodowska-Curie Actions (MSCA) is to fund its 100,000th fellowship this year, ...

Researchers develop improved method for graphene ink

A new method for producing high quality, water-based conductive graphene inks with hig...

Project to boost the 5G era

Italtel, a telecommunications company has unveiled its virtual Transcoding Unit (vTU) ...

Researchers to create 'train of the future'

A team of more than 30 students from the Polytechnic University of Valencia (UPV), Spa...

EU-funded researcher studies breast milk impact

UK-based, EU-funded researcher Dr Tanya Cassidy plans to find out about the medical ri...

New secretariat for animal health IRC

A new scientific secretariat for the International Research Consortium (IRC) on Animal...