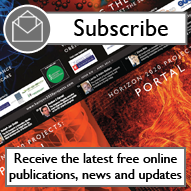 €16m for Irish researchers

The Irish government has announced funding totalling nearly €19m for 353 postgraduat...

Asking Marie

Led by Imperial College London, the League of European Research Universities outlines ...

UL to target osteoporosis

A researcher from the University of Limerick has one of the ERC's prestigious Starti...

ERC rewards more women

The number of women receiving European Research Council Starting Grants is now a third...

ERC supports new researchers

The European Research Council has selected 287 top scientists in its sixth Starting Gr...

Glycomics study gets ERC money

The Slovak Academy of Sciences have been awarded funding by the ERC to continue their ...

ERC grant for quantum simulations

A researcher at Johannes Gutenberg University Mainz, Germany, has been awarded funding...

FET: Graphene

Set to receive €1bn in funding over the next decade, Horizon2020projects.com explore...

MCAs assist climate project

The Marie Curie Actions have assisted in research tackling climate change. Scientists ...

Tomorrow's brains

Professor Henry Markram, co-ordinator of the Human Brain Project, one of the winning F...

ERC: Slovakia meeting

The European Research Council is meeting in Bratislava for a second day of talks to ag...

EATRIS launched

An organisation has been launched to help bring more medical products to market and su...

Cyprus gets ERC money

A professor at the University of Cyprus has secured a major funding boost from the Eur...

Ireland: 'well-placed'

Professor Donald Dingwell, the secretary general of the European Research Council, has...

Europe's ESRF

Edward Mitchell, head of business development at the ESRF, explains the core assets of...