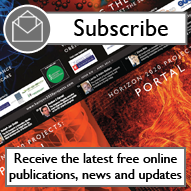 ERC funds 3D limbs

The European Research Council has part-funded new research at the Karolinska Institute...

Extra funds for MCAs

The European Commission has said the Marie Curie Actions will receive extra funding un...

ERC obesity grant

A European Research Council Synergy Grants has been awarded to two scientists at Imper...

Graphene's MOCVD

AIXTRON, a German-based manufacturing metalorganic chemical vapour deposition (MOCVD) ...

New FET consultation

A new discussion on the future development of the FET projects has been launched by CO...

ERC courts India

The secretary general of the European Research Council, Professor Donald Dingwell, has...

MCA deadline

The European Commission has invited scientists to bid for the final Marie Curie Action...

ERC announces H2020 calls

New seasonal deadlines have been announced for Horizon 2020 European Research Council ...

ERC: Protect research

The head of the European Research Council, Helga Nowotny, has repeated her concerns ov...

Regret on H2020 budget

Further political pressure has begun to secure the budget for Horizon 2020 after the h...

'Don't cut ERC funding'

A group representing top UK universities have spoken out against cuts to EU research f...

ERC grants revealed

The European Research Council has announced the winners of grants worth €150,000 as ...

FET winners announced

The winners of the European Commission's FET competition have been announced in Brus...

ERC seeks new president

An independent committee has begun searching for potential candidates to succeed Profe...

Commission announces FET winners

Scientists hoping to simulate the human brain and analyse the potential of graphene ar...