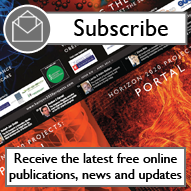 Co-operation boosts European bioeconomy

At the European Bioeconomy Congress in Łódź, Poland, efforts to intensify co-operat...

EU funding drives Welsh engineering

An extra £850,000 (~€941,000) of funding has been secured to drive Wales' enginee...

Over 3,000 SMEs benefit from 'Seal of Excellence'

Since its launch in October 2015, more than 3,000 small and medium-sized enterprises (...

Cyprus launches climate innovation programme

Academics, business leaders and government officials in Cyprus celebrated the rollout ...

Knowledge sharing site for organic farmers

A new European initiative called OK-Net Arable has been launched to promote knowledge...

Project strengthens the role of universities

The Universitat Autònoma de Barcelona (UAB), Spain, is set to participate with six ot...

AfriAlliance hosts first innovation bridge event

The AfriAlliance team is organising its first of five Innovation Bridge Events (IBE) i...

TEDxCERN 2016: 'Ripples of curiosity'

The fourth TEDxCERN event is set to be hosted on 5 November and will feature talks by ...

'Juncker Plan' to benefit poorer EU members

The European Commission has announced plans to improve the geographical reach of its f...

Scientists publish 5,000th paper

Researchers at the UK's national synchrotron facility, Diamond Light Source (DLS), h...

Pilot projects to trial vehicle-to-grid technology

The SEEV4-City project aims to support the energy infrastructure through vehicle-to-gr...

New MM treatment gains funding

SkylineDx has received Horizon 2020 funding to develop a gene-expression profiling te...

EU strengthens South Africa ties

The EU and South Africa are strengthening their scientific collaboration in order to b...

Mining project reaches design stage

Launching a safe, clean and low visibility method for the rehabilitation of underexplo...

Cities pilot waste management solutions

The UrbanWins project is set to begin pilot studies in six European countries to explo...