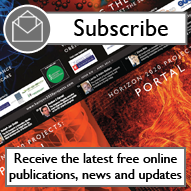 MSCA researchers selected to showcase EU actions

To mark the 100,000th fellow benefitting from the Marie Skłodowska-Curie Actions (MSC...

ESA's Sentinel-2B launched into space

Europe has launched its latest Earth observation (EO) satellite, a spacecraft that wil...

EIF signs deal to support Bulgarian SMEs

The European Investment Fund (EIF) and Bulgaria's DSK Bank have signed an agreement ...

Supercomputer weather system 'heads to Italy'

Bologna, Italy, looks set to gain the next-generation supercomputer that will drive Eu...

Group gains support for tidal turbine technology

A European tidal energy consortium has secured funding for the research and developmen...

Project to analyse cognitive ageing

A new project funded under Horizon 2020 is set to identify the risk and protective fac...

UCD takes lead on ophthalmic research

The University College Dublin (UCD), Ireland, is to lead a new international industry-...

New secretariat for animal health IRC

A new scientific secretariat for the International Research Consortium (IRC) on Animal...

Robotic arms aim to transform food shopping

Part-supported through the EU-funded SOMA project, robotics researchers have developed...

Breast cancer exposed

Speaking to Portal, Breast Cancer UK makes the case for a shift in focus from breast c...

Irish Government aims to attract international researchers

With €5m in Horizon 2020 funding, Enterprise Ireland has launched a new programme ca...

Project to integrate Jordan-EU research co-operation concludes

The second phase of an EU-funded project to support applied research in Jordan and ide...

Researchers develop model for earlier treatments of AMD

An international team of researchers from Queen's University Belfast, Ireland, Unive...

EU funds 133 frontier research innovations

The European Research Council (ERC) has announced the winners of the latest Proof of C...

Project set to make 360° video clearer

Horizon 2020 is set to devote a portion of its funding to a group of video companies a...