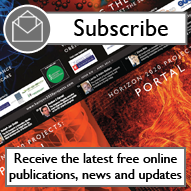 PrimeFish project delivers its first results

From 4-6 April the European project PrimeFish, funded under the Horizon 2020 programme...

EU launches sustainable fisheries project

The EU has launched the ClimeFish project in an attempt to evaluate data streams to en...

Study suggests closer EU-US food colour regulations

A new study has suggested that EU and US companies and consumers have much to gain fro...

Limerick University begins EU tax evasion project

Researchers at the University of Limerick (UL), Ireland, are to investigate tax and ...

InnoEnergy calls for next innovation in sustainable energy

InnoEnergy is calling on energy innovators to apply for its 2017 Investment Round prio...

Universities receive funding for Czech-German research centre

The Czech Technical University (CVUT) in Prague and the University of Technology (VUT)...

Potato experiment yields harvest success

Potatoes grown from plant seeds have yielded two to four times greater harvests for sm...

MEPs approve Mediterranean sustainability agenda

The European Parliament's Committee for Industry, Research and Energy (ITRE) has app...

Study suggests investment in innovation is crucial

According to a report by the European Commission, public funding of research and innov...

Big Data e-infrastructure to support biodiversity research

The European Commission has granted the legal status of European Research Infrastructu...

Freiburg leads smart city initiative

Under the direction of the city of Freiburg im Breisgau, Germany, over 60 partners fro...

Researchers to work on next-generation IoT

Dublin City University (DCU), Ireland, has been awarded €4.6m under the Horizon 2020...

EULIFE calls for an increased ERC budget

The European Research Council's (ERC) alliance of European research centres in life ...

Welsh-led engineering projects gain EU funding

As Wales achieved its €50m EU research and innovation goal last October, two project...

Research tool makes energy planning easier

An EU-funded research project has launched a tool that enables European governments an...