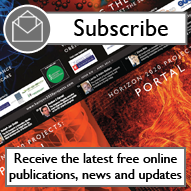 Zurich renews FP role

Switzerland is expected to continue its participation in Horizon 2020 following the me...

Kosovo: Green light for EU R&D

Kosovo will be allowed to participate in EU research programmes, including Horizon 202...

EU-South Africa: closer S&T

The South African Minister for Science and Technology, Derek Hanekom, has held talks w...

Argentina in H2020

Commissioner Máire Geoghegan-Quinn has held a meeting with the Argentine Minister for...

Fast data connection

GÉANT, operated by DANTE in Cambridge, UK, is supplying a 10Gbps link to connect the...

Pakistan signals

Pakistan's science minister and chairman of the country's Science Foundation have call...

SIRIC: H2020 plans

The Strategic International Research and Innovation Cooperation group has been discuss...

Ireland law change

A change in Irish law could see the removal of restrictions banning overseas spending ...

Italy in US H2020 call

The Italian Ambassador to the United States is encouraging American-based professors t...

Montenegro rising

Montenegro has outlined its ambitions under Horizon 2020 following significant success...

Working with Russia

Professor Leonid Bobylev of the Nansen Center, St Petersburg, provides his thoughts on...

NZ-EU science efforts

Sir Peter Gluckman, the chief science adviser to the prime minister of New Zealand, ha...

Diplomatic debate

Key ideas on increasing international research collaboration in Horizon 2020 have been...