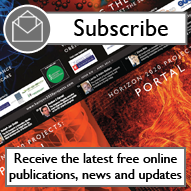 Italy in US H2020 call

The Italian Ambassador to the United States is encouraging American-based professors t...

Montenegro rising

Montenegro has outlined its ambitions under Horizon 2020 following significant success...

Working with Russia

Professor Leonid Bobylev of the Nansen Center, St Petersburg, provides his thoughts on...

NZ-EU science efforts

Sir Peter Gluckman, the chief science adviser to the prime minister of New Zealand, ha...

Diplomatic debate

Key ideas on increasing international research collaboration in Horizon 2020 have been...