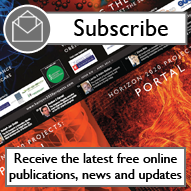 Photonics largely unaffected by Brexit

UK photonics companies reliant on EU funding may be affected by the Brexit. For the mo...

High-tech turf improves pitch durability

Synthetic microfibres and cork are being combined with grass to provide a compound tha...

Graphene-based computers could accelerate processing

New research shows how the interaction between hyper-thin carbon structures and light ...

Graphene used for flexible lighting

Researchers from the University of Exeter, UK, have pioneered the use of graphene to d...

MESO-BRAIN consortium acquires €3.3m

The MESO-BRAIN consortium, a collaborative research group aiming for the development o...

H2020 funding to predict nanotoxicity

Scientists at the Helmholtz Zentrum München, Germany, have been awarded more than €...

Vienna aims to shrink OCT technology

A new €4.9m Horizon 2020 research project, led by the Medical University of Vienna,...

Ireland leading nanotech development

The Tyndall National Institute (TNI) is leading TOP-HIT (Transfer-print Operations for...

H2020 committees meeting in Florence

Representatives of the Italian committees of the Horizon 2020 research and development...

Graphene for use in bio-sensors

As one of the strongest and most versatile materials, graphene could soon be used on a...

Graphene added to rubber

Adding graphene to rubber increases its strength and elasticity by up to 50%, accordin...

Graphene 3D Lab introduces new material

American company Graphene 3D Lab Inc. has completed the development of a graphene mate...

Graphene nanosheets for the brain

A paper published by researchers of the Horizon 2020-funded Graphene Flagship exemplif...

Brazil to contribute to graphene market

Brazil has entered the global effort to develop graphene by opening the Graphene and N...

Graphene exhibition in Manchester

The city of Manchester, UK, will host a new exhibition combining science and art to pr...