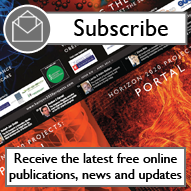 Netherlands GreenTech calls for participants

The European bioeconomy and Dutch GreenTech firms are promoting three events to kick-s...

Bacteria could boost graphene semiconductivity

A team of researchers at the University of Illinois (UoI), Chicago, US, has found a wa...

The future is floral

Pan European Networks undertook some research into the unusual development of robotic ...

IR Prize nominations available

The Innovation Radar (IR) is an initiative supported by the European Commission to ide...

Innovate UK sponsors Venturefest SW 2016

The UK's national contact point for Horizon 2020, Innovate UK, is sponsoring this ye...

Project focus: Flora robotica

Flora robotica is a four-year project running from April 2015 – March 2019 and fund...

Measuring blood flow helps diagnose dementia

Imaging experts are developing technologies that can diagnose dementia before symptoms...

Breath test disease detection hopes

Breathtec Biomedical Inc. has stated its aims to improve and further develop breath te...

New H2020-funded electronics projects

The European Commission has announced three new projects to receive funding as part of...

Climate proposals seen as inconsistent

Conservation partnership BirdLife Europe have expressed concern that an EU proposal co...

Hydrogen powers zero emissions and energy security

The HYDROSOL-PLANT project, supported by the Fuel Cells and Hydrogen Joint undertakin...

PEARRL pushes innovation through research

PEARRL is a European Training Network (ETN) funded under the Horizon 2020 Marie Skłod...

EuropaBio: 'Science required in GMO safety'

Beat Späth, director of agricultural biotechnology at EuropaBio, has called upon the ...

VHTO's Ayla Kruis speaks to PEN about efforts in the Netherlands to encourage more g...

Kiel University reproduces major brain functions

A research team from Kiel University, Germany, has succeeded in the electronic reprodu...