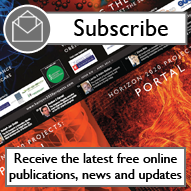 Scanning mirror helps create 3D eyewear

Leading 3D capture and imaging innovator Fuel3D is set to introduce 3D scanning mirror...

EI collaborates with Icelandic data centre

The Earlham Institute (EI), UK, has announced its new partnership with Verne Global, a...

Researchers develop 3D protein models

Researchers have developed new microscopic techniques capable of achieving accurate 3D...

EU probe to 'close data gaps' on building energy use

In a bid to improve energy efficiency, a project backed by the European Commission wil...

Cloud-based deployment in Sweden

Silver Spring Networks has announced plans to expand its public cloud network, data se...

Juncker adds funding to 5G plans

Having previously outlined 5G action plans, European Commission President Jean-Claude ...

Breast cancer imaging device granted funding

A European research consortium headed by the University of Twente, the Netherlands, i...

TUT design computer chip

A research group at the Tallinn University of Technology (TUT), Estonia, has designed ...

Merck KGaA joins vaccine project

Leading science and technology company Merck KGaA has joined the DiViNe project to cre...

AEOLIX enables shared logistics information

Over 100 logistic public authorities, transport companies, service providers and other...

HBP receives boost from European Commission

A flagship project which launched a range of prototype computer platforms to support b...

Wearable devices revolutionise medical care

A new collaborative research programme is set to explore the potential of wearable dev...

Camera to assist low visibility surveillance

The Snapshot Spectral Imager for IR Surveillance (SEERS) project develops breakthrough...

Dundee University to produce citizen science

Dundee University, Scotland, is set to lead a €5m environmental project working w...

EU project solves Netflix mystery

The EU-funded ENDEAVOUR project team has discovered how Netflix's servers work witho...