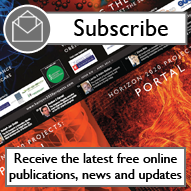 Scientists create electronic sensors from Graphene

Researchers in Advanced Materials and BioEngineering Research (AMBER) at the Trinity C...

Graphene-enhanced aircraft flies

Prospero, the first model aircraft to incorporate a graphene skinned wing, was success...

Researchers develop THz imaging technique

Researchers have developed a technique for imaging THz photocurrents with nanoscale re...

Graphene colours aid screen pixels

Researchers from the Graphene Flagship have found a new potential application for grap...

FET Flagships prove their worth

The fourth annual summit of the Human Brain Project (HBP) took place in Florence, ...

MOF receives grant to tackle global warming

Queen's University Belfast's spinout, MOF Technologies, has received €317,00...

Hub to advance UK engineering

A collaboration between the University of Southampton, UK, and the National Microelect...

Researchers develop single photon LEDs

Researchers from the Graphene Flagship have used layered materials to create an all-el...

Scientists develop heart attack sensor

An international collaboration of scientists has developed a tiny electric sensor that...

Graphene key to growing 2D materials

Materials scientists from Pennsylvania State University, US, have discovered a method ...

Researchers aim for versatile street lights

Companies have been devising cheaper ways of powering street lights, and of allowing t...

Graphene reaches high pressures

Scientists at the University of Manchester, UK, have reported that small balloons made...

'Artificial atom' in graphene

A team of scientists has created an 'artificial atom' using graphene, opening up p...

Nanosensors for Alzheimer's diagnosis

To facilitate diagnosis, researchers have generated a new tool for detecting protein c...

Academic experts appointed for quantum project

The European Commission has appointed a group of 13 academics to prioritise targets fo...