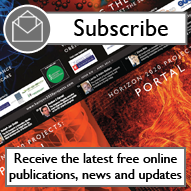 Bacteria could boost graphene semiconductivity

A team of researchers at the University of Illinois (UoI), Chicago, US, has found a wa...

The future is floral

Pan European Networks undertook some research into the unusual development of robotic ...

IR Prize nominations available

The Innovation Radar (IR) is an initiative supported by the European Commission to ide...

Innovate UK sponsors Venturefest SW 2016

The UK's national contact point for Horizon 2020, Innovate UK, is sponsoring this ye...

China develops graphene battery

A faster, more efficient graphene battery called 'G-King' has been developed in Ch...

Project focus: Flora robotica

Flora robotica is a four-year project running from April 2015 – March 2019 and fund...

Breath test disease detection hopes

Breathtec Biomedical Inc. has stated its aims to improve and further develop breath te...

Young researchers attend ESOF

Funding support from the Graphene Flagship and the European Science Foundation (ESF) h...

NanoSafety Cluster releases 2016 compendium

The 2016 compendium of projects in the European NanoSafety Cluster, containing entries...

Graphene turns electricity into light

Researchers have discovered a process in which a flow of electric current can exceed t...

VHTO's Ayla Kruis speaks to PEN about efforts in the Netherlands to encourage more g...

Calls for nanotech safety

The commercial use of nanotechnology is continuing to grow and expand, as are calls to...

High-tech turf improves pitch durability

Synthetic microfibres and cork are being combined with grass to provide a compound tha...

Graphene-based computers could accelerate processing

New research shows how the interaction between hyper-thin carbon structures and light ...

Graphene used for flexible lighting

Researchers from the University of Exeter, UK, have pioneered the use of graphene to d...