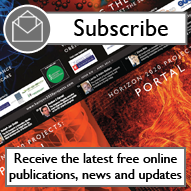 Funding to support 100 high-value research jobs

Ireland has received a further €10m in funding under the Horizon 2020 programme to c...

Researchers develop improved method for graphene ink

A new method for producing high quality, water-based conductive graphene inks with hig...

Project to boost the 5G era

Italtel, a telecommunications company has unveiled its virtual Transcoding Unit (vTU) ...

Project to help fishery industries in Wales and Ireland

More than €1m of EU funds is to be invested into a new project to support the growth...

EU-funded project uses heat in new ways

Wind turbines or aircraft wings will soon de-ice themselves in extreme conditions, or ...

UCD leads international medical consortium

The University College Dublin (UCD), Ireland, is to lead a new international consortiu...

Robotic arms aim to transform food shopping

Part-supported through the EU-funded SOMA project, robotics researchers have developed...

Satellite navigation boosts emergency services

The common European emergency number, 112, can now pinpoint the location of callers, d...

Project to develop urban-scale internet ecosystems

The University of Southampton, UK, is to develop next-generation internet ecosystems u...

Project to explore ways to make concerts safer

Researchers at Kingston University, UK, have secured a €900,000 grant to explore way...

Training network to focus on ESR in mobile biometrics

A new EU-funded training network, AMBER (enhAnced Mobile BiomEtRics), has detailed its...

Commission and EIF begin venture capital selection

The European Commission and the European Investment Fund (EIF) have begun selecting pr...

Language learning start-up concludes funding partnership

The Estonian language learning start-up Lingvist has concluded its €1.5m partnership...

Council launched for remanufacturing industry

The newly launched European Remanufacturing Council has announced its plans to represe...

Project aims to improve solar-based hydrogen

The technology demonstration of large-scale photo-electrochemical system for solar hyd...