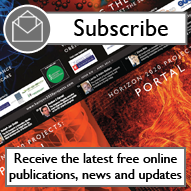 Graphene as 3D printed aerogels

A 3D printing technique for the fabrication of graphene aerogels with complex microst...

LG and Intel collaborate on 5G in transport

At the Mobile World Congress in Barcelona, Spain, LG Electronics and Intel have reveal...

UK university spearheads raw materials project

The University of Exeter, UK, is to lead a groundbreaking new collaborative research p...

Israeli company wins SME Instrument grant

Israel-based Lingacom Ltd., a developer and manufacturer of muon-based detection solut...

SKA receives boost from Horizon 2020

The Square Kilometre Array (SKA) project – an international effort to build the worl...

Photonics PPP launches new pilot lines

Europe's industrial competitiveness is to receive a boost thanks to the launch of th...

45 SMEs secure SME Instrument funding

45 SMEs from 19 countries have been selected in the latest round of the Horizon 2020 S...

H2020 to support greener cloud computing

The dRedBox consortium has been awarded €6.4m in EU funding under Horizon 2020 to de...

Israel signs first InnovFin SME Guarantee

Israeli SMEs are to benefit from easier access to risk capital thanks to a new EU-back...

Manchester set to become UK's 'Silicon Valley of graphene'

The city's Sackville Street has been selected for the site of a new £60m (~€76m) ...

Horizon 2020 European Brokerage Event

The Enterprise Europe Network, the National Contact Points for nanotechnologies, advan...

Study: Lasers enable superconduction at high temperature 

Shining lasers at superconductors enables them to work at higher temperatures, new res...

Opportunity for Swedish SMEs

Norrlandsfonden, a trust fund that promotes development in SMEs in Sweden, lends rough...

SME lending growth for UK

Since the recession of 2006, small and medium-sized enterprises (SMEs) in the UK have ...

EU launches SME Innovation Associate programme

The EU is to launch a new programme to help SMEs and start-ups recruit the best postdo...