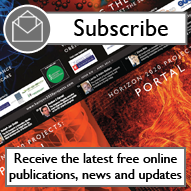 Biomed alliance: H2020 paper

The EAMBES has released a position paper on Horizon 2020, calling for the inclusion of...

EuroSME2013 opens

Seán Sherlock, the Irish Minister for Research and Innovation, has formally opened th...

ESIA welcomes EU plan

The European Semiconductor Industry Association has welcomed the Commission's strate...

Digital innovation recovery

European Commission Vice-President Neelie Kroes outlines how innovation can ensure Eur...

ESA launches satellites

The second flight of the European Space Agency's (ESA) newest launch vehicle has bee...

ICT Labs: DTC launched

The European Institute of Innovation and Technology's ICT Labs Knowledge and Innovat...

Bio films launched

EuropaBio, the continent's bioindustry association, has launched a collection of fil...

Supplying photonics

Europe is strongly positioned to design and manufacture volume silicon photonics devic...

Exploring Saturn's youth

New research funded by the ERC has revealed how Saturn keeps itself looking young and...

Biofuels division

The cabinet of European Commissioner for Research, Innovation and Science, Máire Geog...

Telecoms sector needs a 'Ryanair'

A director of Intel Labs says the telecoms sector needs a radical overhaul to ensure i...

iMinds joins ICT Labs

Belgium ICT research institute iMinds is to become an associate partner of the Europea...

Photonics PPP formed

Companies working in Europe's photonics sector have formed a PPP in preparation for ...

Photonics matters

Neelie Kroes, European Commissioner for the Digital Agenda, welcomes the launch of a n...

Large star discovered

Astronomers from the Max Planck Institute for Radio Astronomy in Germany have discover...