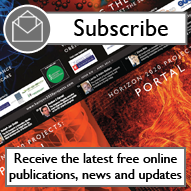 Norway: EUREKA chairmanship

Norway has opened the second year of its chairmanship of EUREKA, the European network ...

Start-up party

Neelie Kroes, Vice-President of the European Commission responsible for the Digital Ag...

GM-IPM

Dr Franz Bigler, of the International Organisation for Biological Control, outlines hi...

Atoms enhance 'quantum storage'

Physicists at the University of Tübingen in Germany have created an interface between...

Spinning into future electronics

Scientists at the University of Nottingham have developed a new material which, it is ...

Eurostars: quicker grant time

Eurostars will implement a quicker time-to-grant under Horizon 2020 that should bring ...

Competitive Innovation

Three key directors of ARTEMIS, Professor Heinrich Daembkes, Dr Jan Lohstroh and Mr Ad...

Systems: the future horizon

ARTEMIS executives outline how the joint undertaking will evolve during Horizon 2020 a...

GÉANT world record

A new Guinness World Record has been set on Europe's GÉANT Network, an e-infrastruc...

Future embedding

ARTEMIS directors Professor Heinrich Daembkes, Dr Jan Lohstroh and Mr Ad ten Berg outl...

Chip testing made easier

A team of EU-funded researchers have developed a way of reducing the cost and length o...

New diamond lasers developed

Groundbreaking research is harnessing the unique properties of diamonds to develop a n...

XMOS joins ENTRA project

A UK-based fabless chip designer is to take part in the European Commission's ENTRA ...

Aims to perfect digital imaging

New research in computer graphics will advance artificial vision, 3D displays and vide...

Plastic solar cells: disorder means improvement

Scientists have discovered that disorder at the molecular level of flexible plastic so...