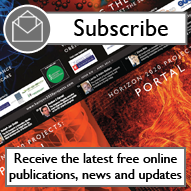 Commission invests in 58 SMEs

58 small and medium-sized enterprises (SMEs) from 16 countries have been selected for ...

Biotechnology company receives funding

ENYO Pharma, a biopharmaceutical company focused on developing treatments for viral in...

InnoEnergy reveals master's graduates

The InnoEnergy Master's School, which offers students the opportunity to study engin...

EU invests in Ukrainian automation start-up

The EU is to invest in Ukrainian tech start-up Polyteda Cloud in order to help it merg...

Ireland's research fund continues to grow

Ireland's minister for training, skills and innovation, John Halligan, has announced...

Graphene-enhanced aircraft flies

Prospero, the first model aircraft to incorporate a graphene skinned wing, was success...

Project creates test for RDS in infants

Digital molecular company SIME Dx has announced data validating the effectiveness of l...

EIF awards grant for Portugal SMEs

The European Investment Fund (EIF) and Portuguese bank Caixa Económica Montepio Geral...

Start-ups pitch innovations at TBB

This year's The Business Booster 2016 (TBB.) event has seen more than 150 start-...

Helsinki joins MaaS concept

The Helsinki Regional Transport (HRT) board has approved terms for offering its public...

ITS COST event begins in Žilina

The 'Intelligent Transport Systems: a Tool or a Toy?' conference co-organised by t...

EIF signs SME support guarantee

The European Investment Fund (EIF) has signed guarantee agreements with five Bulgarian...

Finnish companies showcase innovations at EUW

Finpro, the public body that supports SMEs in Finland, is set to showcase Finnish smar...

EUW 2016 begins in Barcelona

The annual landmark event of the European energy calendar, European Utility Week (EUW)...

Smartive receives innovative SME award

InnoEnergy-supported start-up wins coveted European Enterprise Network (EEN) award. S...