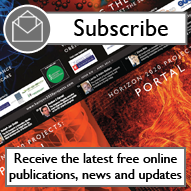 Schiaparelli probe 'ready for all eventualities'

The European Schiaparelli probe may have to contend with stormy conditions when it arr...

ESA announces final Rosetta mission

The European Space Agency's (ESA) Rosetta spacecraft is set to complete its historic...

ESA says UK role "will change"

The European Space Agency (ESA) has said that the UK will stay as part of the ESA when...

Dundee University to produce citizen science

Dundee University, Scotland, is set to lead a €5m environmental project working w...

Sentinel-1A satellite hit by space particle

European Space Agency (ESA) engineers have discovered that a solar panel on the Copern...

'Artificial atom' in graphene

A team of scientists has created an 'artificial atom' using graphene, opening up p...

Gold could have formed from star collision

A team of researchers at the Aristotle University of Thessaloniki, Greece, have been s...

Academic experts appointed for quantum project

The European Commission has appointed a group of 13 academics to prioritise targets fo...

Manchester rises in university world rankings

The University of Manchester, UK, has risen six places in global rankings, confirming ...

ESO finds nearest potential Earth-like planet yet

The European Southern Observatory (ESO) may have discovered the nearest Earth-like pl...

'Cubesats' to explore thermosphere

An EU-led project named QB50 will see 50 small satellites released from the Internatio...

Aviation industry drives digital transformation

The digital revolution has opened the world up to all. No sector has contributed more ...

Transport and space projects gain momentum

VTT Technical Research Centre of Finland, an innovation support company with projects ...

Space Information Days 2016 announced

The next Horizon 2020 Space Information Days, co-ordinated by COSMOS2020, will be held...

Report review: Earth observation

The European Commission report entitled 'Investing in European Success: A Decade of ...