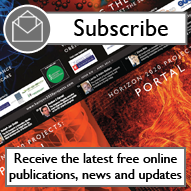 New supernovae theory proposed

Astronomers at Queen's University Belfast, Northern Ireland, have shed new light on ...

Alphasat launched

The world's largest and most sophisticated commercial satellite has been successfull...

Making space for Europe

Professor Jean-Jacques Dordain speaks about the European Space Agency's current budg...

Mars: oxygen-rich atmosphere

Differences between Martian meteorites and rocks examined by a NASA rover can be expla...

ESA launches satellites

The second flight of the European Space Agency's (ESA) newest launch vehicle has bee...

Exploring Saturn's youth

New research funded by the ERC has revealed how Saturn keeps itself looking young and...

Large star discovered

Astronomers from the Max Planck Institute for Radio Astronomy in Germany have discover...

Missions to Mars

Former Apollo 11 astronaut Buzz Aldrin has outlined his dream of multiple missions to ...

A good use of space

Dr Jean-Claude Worms, of the European Space Sciences Committee, part of the European S...

The 100 Year Starship

Former NASA astronaut Mae Jemison delivers her message of creating an "extraordinary...

Dordain in space aid

Jean-Jacques Dordain, the director general of the European Space Agency (ESA), says co...