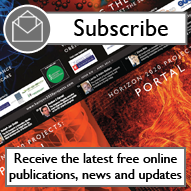 CBI members outline need for UK-EU research

As part of discussions with partners in the Confederation of European Business (BusinessEurope), the Confederation of British...

Project launches wearable technologies competition

A wearable technology project is offering up to €2.4m in funding for teams of creatives and technologists to develop the ne...

Sentinel satellites to monitor volcanoes

A UK-led team of scientists is launching a project to monitor every land volcano on Earth from space. Two satellites will rou...

Scheme encourages drivers to swap cars for bikes

Reading Borough Council, UK, is to launch a new scheme that will offer rewards for cycling in order to encourage people to tr...

NUIG research projects receive funding

Eight research projects underway at NUI Galway, Ireland, have been awarded a total of €782,000 to commercialise their ideas...

Network receives vascular health research grant

NattoPharma's International Research Network has received a €4m grant under the Horizon 2020 programme to study vitamin K...

PrimeFish project delivers its first results

From 4-6 April the European project PrimeFish, funded under the Horizon 2020 programme, presented its first results on the co...

EU launches sustainable fisheries project

The EU has launched the ClimeFish project in an attempt to evaluate data streams to encourage European fisheries to adapt to ...

Project to leverage potential of imaging biomarkers

The Innovative Medicines Initiative (IMI) has approved the five-year project TRISTAN focusing on validation of translational ...

Study suggests closer EU-US food colour regulations

A new study has suggested that EU and US companies and consumers have much to gain from closer co-operation on food colouring...

Limerick University begins EU tax evasion project

Researchers at the University of Limerick (UL), Ireland, are to investigate tax and evasion in the EU. The €5m Horizon 20...

EIT Digital launches 'Robot IoT Interface'

EIT Digital has announced the launch of 'Robot IoT Interface', a new activity with the goal of enabling different kinds o...

Project to deliver next-generation cloud service

Researchers at IMDEA Networks are working on the EU-funded project RECAP to develop the next generation of optimised cloud co...

BSU to launch nanosatellite

Sergei Zolotoi, director of the Geoinformation Systems of the National Academy of Sciences of Belarus (NASB), has confirmed t...