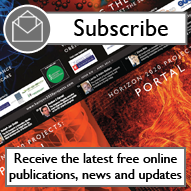 UCD leads international medical consortium

The University College Dublin (UCD), Ireland, is to lead a new international consortium of researchers with the aim of develo...

Robotic arms aim to transform food shopping

Part-supported through the EU-funded SOMA project, robotics researchers have developed versatile robotic grippers to pick tho...

Breast cancer exposed

Speaking to Portal, Breast Cancer UK makes the case for a shift in focus from breast cancer awareness to preventative action ...

Welsh science initiative flourishes

As part of the Welsh governments 'Science for Wales' initiative, an engineering network has been set up to provide suppor...

Irish Government aims to attract international researchers

With €5m in Horizon 2020 funding, Enterprise Ireland has launched a new programme called Career-FIT in the hope of persuadi...

Small steps for big change

Chair of the Global Hygiene Council Professor John Oxford discusses a new report into preventable infectious diseases in chil...

Satellite navigation boosts emergency services

The common European emergency number, 112, can now pinpoint the location of callers, due to technological advances funded by ...

Project to develop urban-scale internet ecosystems

The University of Southampton, UK, is to develop next-generation internet ecosystems using new technology to provide flexible...

Progress on the human proteome

Chair Gilbert S Omenn discusses recent advances from the Human Proteome Organization's Human Proteome Project The Human Pro...

Irish science sector to receive boost

The Minister for Jobs, Enterprise and Innovation, Mary Mitchell O'Connor, together with the Minister for Training, Skills a...

Project to explore ways to make concerts safer

Researchers at Kingston University, UK, have secured a €900,000 grant to explore ways in which internet of things (IoT) con...

Project to integrate Jordan-EU research co-operation concludes

The second phase of an EU-funded project to support applied research in Jordan and identify research needs has concluded with...

Researchers develop model for earlier treatments of AMD

An international team of researchers from Queen's University Belfast, Ireland, University College London, UK and the Univer...

Training network to focus on ESR in mobile biometrics

A new EU-funded training network, AMBER (enhAnced Mobile BiomEtRics), has detailed its plans to address current issues relate...

Tackling cholangiocarcinoma

AMMF CEO Helen Morement discusses some of the known and suspected causes of cholangiocarcinoma ahead of the second annual Wor...