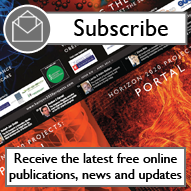 Study funded to investigate lung infections

Experts have received €29m worth of funding to investigate serious lung infections that particularly affect babies and olde...

TCD team wins funding for 5G research

A research team at the Science Foundation Ireland (SFI)-funded Connect Centre at Trinity College Dublin (TCD), Ireland, ha...

Technology company secures further funding

Swedish financial technology company iZettle has raised an additional €60m in funding, seven years after it launched the wo...

US-EU workshop promotes research co-operation

The US Department of State has hosted a joint US-EU workshop for the science and technology communities to discuss opportunit...

Academy of Finland evaluates Horizon 2020

The interim evaluation of Horizon 2020, the EU's research and innovation funding programme for 2014–2020, is well underwa...

Experts discuss agricultural research

In December the European Commission invited experts to a workshop in order to discuss ways in which researchers adopt systems...

Turbine project secures second funding round

A group led by turbine supplier Atlantis Resources has received a €20.3m grant from the European Commission to develop the...

Study aims to satisfy energy needs

A group of researchers is aiming to develop a novel way to satisfy Europe's energy needs by combining heat and power with m...

ESF launches services division

The European Science Foundation (ESF) has announced the launch of a new services division, Science Connect, to provide practi...

Parkinson's drug delivery system gains funding

Engineering and scientific technology company Renishaw has gained Horizon 2020 support to trial a new drug delivery system in...

EIT Digital-supported scale-up wins at CES

EIT Digital Accelerator member Origone has won first place at the European/American Pitch Awards competition during the Consu...

Project vows to improve Africa's agriculture

A new Horizon 2020 project named InnovAfrica has vowed to take an innovative and integrated approach to improve food and nutr...

InnoEnergy invests in NexWafe's solar technology

InnoEnergy, the innovation engine for sustainable energy, has committed €2m to NexWafe, a developer of efficient solar wafe...

Europe joins forces to combat plant bacteria

The EU has joined 29 international partners in a research project aimed at improving the prevention, early detection and cont...

ICL president seeks research clarity

The president of Imperial College London, UK, has said that UK universities need clarity on the future of EU staff and studen...