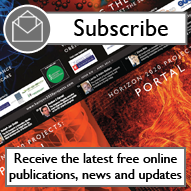 Study suggests investment in innovation is crucial

According to a report by the European Commission, public funding of research and innovation (R&I) acts as a catalyst to b...

Big Data e-infrastructure to support biodiversity research

The European Commission has granted the legal status of European Research Infrastructure Consortium (ERIC) to the e-Science a...

Freiburg leads smart city initiative

Under the direction of the city of Freiburg im Breisgau, Germany, over 60 partners from manufacturing, research and politics ...

Bosnia could miss out on EU energy project funding

Bosnia and Herzegovina risks losing millions of euros for energy projects from the EU unless it passes a gas law to comply wi...

Project developing intelligent public transportation

The Horizon 2020-funded Galileo Enhancement as Booster of the Smart Cities (GHOST) project is designing, developing and vali...

Funding to progress diabetes monitor

RSP Systems, a Denmark-based non-invasive human diagnostics specialist company, has been awarded a €2.4m grant as part of t...

Researchers to work on next-generation IoT

Dublin City University (DCU), Ireland, has been awarded €4.6m under the Horizon 2020 programme to develop new cloud computi...

Natural refrigerants awarded for energy efficiency

European project ProCold has recognised the most efficient and climate-friendly refrigeration equipment manufacturers. At thi...

SMEs to receive support in creative content sector

A new project co-funded under the Horizon 2020 programme aims to support small and medium-sized enterprises (SMEs) in the cre...

EULIFE calls for an increased ERC budget

The European Research Council's (ERC) alliance of European research centres in life sciences, EU-LIFE, has urged politician...

Aquafeeds project enters next phase

Animal nutrition company, BIOMIN, has announced the start of its experiment work in the WiseFeed project to improve the susta...

Project to recharge electric vehicles whilst on the road

A unique wireless electrification system is to be piloted on a bus route in Tel Aviv, Israel, before it moves to Europe. As m...

Company gains grant to enrich video apps

Based in Dublin, Ireland, technology firm Axonista has been selected for a €1.7m grant under the Horizon 2020 programme, to...

Welsh-led engineering projects gain EU funding

As Wales achieved its €50m EU research and innovation goal last October, two projects funded as part of the National Resear...

Research projects to boost urban energy efficiency

Cardiff University, Wales, has secured almost £1m (~€1.15m) in EU funding for three research projects as part of a Europe...