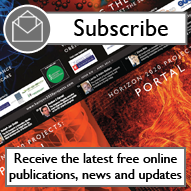 AHDB leads pig welfare project

The UK's AHDB is to lead a new European-wide project that aims to improve pig welfare....

AMBER awarded new research contract

The AMBER centre at TCD, Ireland, has won a contract to develop a new class of magnetic materials for electronics....

Enhancing STEM education

Dublin City University's Dr Gabriel-Miro Muntean introduces NEWTON, an innovative new Horizon 2020 project aimed at improvi...

Two years until launch of James Webb Telescope

Engineers have finished assembling the James Webb Space Telescope (JWST) that is set to succeed Hubble....

EUW reveals competition shortlist for smart energy

European Utility Week (EUW), the leading event for Europe's smart utility community, has revealed the finalists for the Ini...

Images reveal Schiaparelli crash site

New images released by the European Space Agency (ESA) appear to show the Mars lander's crash in greater detail than ever b...

EU urged to strengthen youth programme

The EU's flagship Youth Employment Initiative (YEI) programme has been criticised for yielding disappointing results....

Firing up 5G

EIT Digital's director of research, Fabio Pianesi, introduces SoftFIRE, a programme designed to push the boundaries of soft...

Lake Bizerte project begins

The Integrated programme for the protection of Lake Bizerte against pollution was launched yesterday (1 November) in Bizerte,...

Researchers alleviate cancer drug effects

The Wihuri Research Institute (WRI) and the University of Helsinki, Finland, say gene therapy to stimulate blood vessel growt...

Help for hepatitis

Helena Cortez-Pinto, United European Gastroenterology liver expert, makes the case for the adoption of universal vaccination ...

Leicestershire to benefit from EU funding boost

Industries in Leicestershire, UK, are set to benefit from £50.3m (~€55m) of European funding despite the UK's referendum...

Climathon finds transport emissions solutions

Students, entrepreneurs, technical experts and app developers from a range of professional backgrounds came together to find ...

Ingenza celebrates SME success

Ingenza has announced its successful EU Horizon 2020 SME Instrument funding of €50,000 for Phase 1 of its innovative SYNBIO...

IBEX robot to revolutionise UK farming

A Leicester county inventor has designed a robot that could revolutionise UK farming. The IBEX is able to carry out the impo...