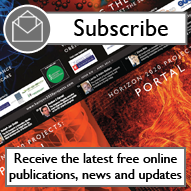 Study shows Earth's water over 32 years

Joint Research Centre (JRC) scientists and Google have collaborated and created interactive maps which highlight changes in t...

Brexit 'factsheet' shows UK HE role

According to a Brexit 'factsheet' published by the European University Association (EUA), the UK has the largest number o...

First photos released from Cassini's new orbit

The Cassini spacecraft has sent back the first views from its new orbit around Saturn. Last month, the probe, a joint endeavo...

Commission invests in 58 SMEs

58 small and medium-sized enterprises (SMEs) from 16 countries have been selected for funding in the latest round of the Hor...

Biotechnology company receives funding

ENYO Pharma, a biopharmaceutical company focused on developing treatments for viral infections, has announced that it has rec...

InnoEnergy reveals master's graduates

The InnoEnergy Master's School, which offers students the opportunity to study engineering and entrepreneurship, has unveil...

First images taken by the ExoMars orbiter

The ExoMars Trace Gas Orbiter (TGO) has imaged the Martian moon Phobos as part of a second set of test science measurements m...

UEG hosts European Digestive Health Summit

The first United European Gastroenterology (UEG) Digestive Health Summit has been hosted today (6 December) in Brussels, Belg...

EU invests in Ukrainian automation start-up

The EU is to invest in Ukrainian tech start-up Polyteda Cloud in order to help it merge into the European market with its sof...

UK boosts manufacturing funding

Six universities across the UK are to share government funding through the Engineering and Physical Sciences Research Council...

Azerbaijan hosts National Erasmus+ Day

Baku Higher Oil School (BHOS) hosted the National Erasmus+ Information Day, held jointly with the National Erasmus+ Office, i...

Tunisie Telecom secures loan

Tunisian telecom operator Tunisie Telecom has negotiated a financing agreement for €100m from the European Investment Bank ...

Europe increases Mars Rover funding

Europe is to continue its plan to put a UK-assembled robotic rover on the surface of Mars in 2021. Research ministers meeting...

EGNOS team receives prestigious award

The multi-agency team behind the ESA-designed EGNOS augmentation system has received a prestigious award from France's nati...

Energy storage project receives funding

The Electrochemical Conversion of Renewable Electricity into Fuels and Chemicals (ELCOREL) project has received funding under...