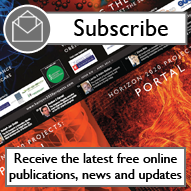 Prize set for EU clean air solution

The EU has set aside a €3m prize for material solutions with the hope of tackling air pollution. According to the European ...

Project develops memory recall techniques

The EU-funded Seventh Framework Programme (FP7) RECALL project has been exploring ways of using technology to augment human m...

Smart solutions

Chief strategy officer at geo Simon Anderson tells Portal about how new solutions are needed for the way energy is used Highl...

Project receives grant for biogas enzyme research

Biobased solutions company DuPont Industrial Biosciences has received a grant to demonstrate high-efficiency enzyme productio...

Holocaust research 'more important than ever'

According to MEP Christian Ehler, research into the Holocaust helps to ensure that the mass execution of Jewish people during...

Researchers unveil graphene dress

Scientists from the National Graphene Institute (NGI) in Manchester, UK, have collaborated with CuteCircuit Fashion Company t...

Enabling the transition

Christian Buchel, vice-chairman of EDSO, discusses the role of distribution systems operators (DSOs) in enabling the energy t...

Broadband to improve in Spain and Portugal

Broadband services in Spain and Portugal are set to improve with the launch of Avanti's HYLAS 1 Ka-band satellite. Eurona ...

Liverpool secures heritage funding

Liverpool, UK, has become one of ten European cities to take part in a pan-European initiative to promote historic city centr...

Getting smarter

Eric Woods, research director at Navigant Research, spoke to Portal about how smart cities are evolving and the challenges an...

Project to address unexpected cyber risks

A research project is set to address cybersecurity concerns by researching, developing and demonstrating an holistic solution...

Project set to satisfy olive oil regulations

A group of researchers from the University of Bologna in Italy and the University of Vigo in Spain has proposed a method to q...

Project to boost sat nav positioning accuracy

The University of Nottingham, UK, is set to exploit Global Navigation Satellite Systems (GNSS) to establish a blueprint for t...

The digital transition

Christian Pilgaard Zinglersen, Deputy Permanent Secretary at the Danish Ministry of Energy, Utilities and Climate, discusses ...

HiPEAC releases new report

The European Network on High Performance and Embedded Architecture and Compilation (HiPEAC) has released a new 137-page repo...