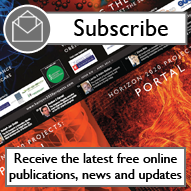 Digital Horizon

With nearly one million vacancies in ICT within the next three years, Commissioners Neelie Kroes and László Andor outlines ...

A good use of space

Dr Jean-Claude Worms, of the European Space Sciences Committee, part of the European Space Foundation, outlines the key role ...

The 100 Year Starship

Former NASA astronaut Mae Jemison delivers her message of creating an "extraordinary tomorrow to create a better today" a...

Nuclear talks held

The 'NucIear Fission Research for a Low Carbon Economy' conference, a two-day symposium on the benefits of nuclear fission is...

Photonics in last FP7 call

The Seventh Framework Programme is making its final call for photonics research funding bids as the European Commission begin...

Venture capitalism

Venture capitalists form Union Square Ventures in New York and Earlybird from Germany give their thoughts on working in Europ...

EU patent welcomed

EuropaBio, the organisation representing the European biotechnology industry, has welcomed the introduction of a single Europ...

Belfast's Horizon 2020

The Northern Ireland Executive has launched a detailed strategy to help businesses benefit from Horizon 2020. It's hoped the ...

Kroes "excited" by H2020

European Vice-President Neelie Kroes has given her backing to the EU's forthcoming research framework programme, announcing...

More funding for ICT

European Commission Vice-President Neelie Kroes announces that Europe's ICT sector will receive nearly 20% of total funding u...

ERC: Protect research

The head of the European Research Council, Helga Nowotny, has repeated her concerns over cuts to the EU's research budget a...

LERU on H2020 budget

In an interview with University World News, Kurt Deketelaere, the secretary general the League of European Research Universit...

New bio-observatory

The European Commissioner for Research and Innovation, Máire Geoghegan-Quinn, has announced the development of a bioeconomy ...

Regret on H2020 budget

Further political pressure has begun to secure the budget for Horizon 2020 after the head of the ERC said she was frustrated ...

H2020 budget cut

The budget for Horizon 2020, the EU's next research and innovation framework programme, is expected to be around €71bn, a...