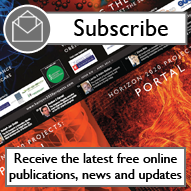 ERA chairs announced

The Commission has announced plans to fund European Research Area Chairs to encourage greater participation in EU research pr...

ERC funding landmark

A milestone grant of €1.8m from the European Research Council will be given to Professor Christian Keysers, making him the ...

EU budget talks to resume in February

EU leaders will reconvene in Brussels next month in another attempt to agree the next Union budget....

Commissioner warns against H2020 funding cuts

Máire Geoghegan-Quinn is calling on the European Parliament and Commission to come together in the face of possible funding ...

Fund transport call

Transport requires increased investment, particularly in green technology, under Horizon 2020, according to Bert de Colvenaer...

SEI: "optimistic"

The Stockholm Environment Institute's Tom Gill has welcomed efforts by the European Union to combat climate change, given the...

Battery boost needed

Alfons Westgeest, the secretary general of EUROBAT, the association of European Automotive and Industrial Battery Manufacture...

Biofuels: 27% by 2050

The use of biofuels is expected to grow rapidly by 2050 according to the chair of European Biofuels Technology Platform's Lar...

Funding "to double"

The European Commissioner responsible for Industry and Entrepreneurship, Antonio Tajani, has said he expects transport resear...

Getting to market

Dr Claire Skentelbery of the European Biotechnology Network has stated her hopes there will be a greater focus on 'end resu...

Maternity focus

Europe must consider introducing specialist maternity guidelines for immigrant women says Birgitta Essén, associate professo...

Invest in biotech call

Joanna Dupont-Inglis, director of industrial biotechnology at EuropaBio, says more investment is needed in the EU's biotechno...