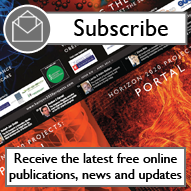 Large star discovered

Astronomers from the Max Planck Institute for Radio Astronomy in Germany have discovered the universe's largest neutron sta...

Healthy funding

Dr Mark Tangney of Cork Cancer Research Centre outlines the vitality of EU research grants to Ireland's healthcare sector a...

Nuclear centre launched

The Commission has launched a new nuclear safety training facility, EUSECTRA, to help combat the illegal trade in radioactive...

EU funds malaria test

The EU's FP7 has funded the development of a new test for malaria using nanotechnology. It's hoped the test will enable the q...

JRC open day

The Joint Research Centre is once again allowing members of the public to explore its Ispra site in Italy. The open day will ...

EIT competition

Upstart ICT companies CoRehab, Quuppa, and Volumental are selected to compete for this year's Entrepreneurship Award from t...

Walking up the nanoSTAIR

Horizon2020projects.com talks to Olivier Salvi, work plan leader of the nanoSTAIR project, about the importance of knowledge ...

EU-South Africa: closer S&T

The South African Minister for Science and Technology, Derek Hanekom, has held talks with the European Commission encouraging...

Not so easy does it

The University of Navarra's Dr Maurizio Bendandi provides an update on his quest to develop an idiotypic vaccine and explai...

MEP backs marine growth

The European Parliament's Committee on Regional Development passes Seán Kelly's opinion on the Blue Growth strategy, encoura...

€2m cancer ERC grant

Researchers from Queen Mary, University of London, have been awarded a €2.43m grant from the European Research Council to h...

Generation Y

Dr Simon Kimber, a post-doctoral researcher at the European Synchrotron Radiation Facility, provides his thoughts on the hurd...

Popular: ERC grants

Consolidator and Starting Grant applications for early-career researchers to the European Research Council have risen by near...

Green power bio-hub

The EU's new Bioeconomy Observatory will monitor the conversion of waste-to-fuel as one of its first research tasks. The ob...

Argentina in H2020

Commissioner Máire Geoghegan-Quinn has held a meeting with the Argentine Minister for Science, Technology and Innovative Pro...