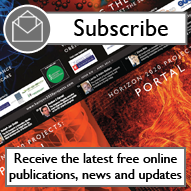 Smartive receives innovative SME award

InnoEnergy-supported start-up wins coveted European Enterprise Network (EEN) award. Smartive, a start-up from Barcelona, Spa...

Smarter heating

Portal takes a look at district heating in Europe and speaks to Professor Jerker Delsing about the role of smarter interopera...

SCOPE project consortium announced

The European Science Foundation (ESF), l'Ecole polytechnique fédérale de Lausanne (EPFL), Switzerland, and the Spanish Fo...

Antarctic project to find 'oldest ice'

Scientists have set out to try to find the oldest ice in Antarctica. They are seeking a location where they can drill a froze...

Scientists develop model of human lung

Scientists at the Children's Hospital Los Angeles, US, have developed a tissue-engineered model of the lung and trachea...

Climate projection project begins

The EU-funded project APPLICATE, which aims at improving weather and climate projections in the Arctic, is set to begin this ...

Fashion and the SDGs

The UN's Paola Deda argues that consumers and producers in the fashion world could make a real difference for humanity and ...

SMEs in Iceland benefit from EU loans

The European Investment Fund (EIF) and Iceland's Arion Bank have signed a loan guarantee deal, offering SMEs in Icela...

Shift2Rail projects fully operational

The Shift2Rail Joint Undertaking (S2R JU) has announced that the last grant agreement has been signed, meaning that all proje...

Textiles project to move into "sharing economy"

Launched in June 2015, Textile and Clothing Business Labs (TCBL) aims to innovate the European textile industry by creating a...

Greener buses tackle UK emissions

A new generation of low emission buses is already saving 55,000 tonnes of greenhouse gas (GHG) emissions per year and £8m (~...

Partnering for progress

The Earlham Institute has joined forces with Kx Systems for an ambitious new project which will revolutionise bioinformatics ...

'Self-determining' robots gain EU funding

A new generation of self-determining robots able to set their own goals and mimic the human learning process are under develo...

MSCA to celebrate 20th anniversary

On 29 November 2016 an event will be held to celebrate the 20th anniversary of Marie Skłodowska-Curie Actions (MSCA). Since ...

Project utilises global data

Sophisticated computers are mining vast amounts of data from the web, digital maps and satellite imagery to pick out trends i...