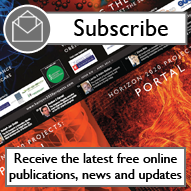 Commission commits €9.1m for innovative businesses

The European Commission has set aside €9.1m to invest in 189 small and medium-sized enterprises (SMEs) from 24 countries. T...

Paris calls for climate experiments

The City of Paris and Paris-based economic development and innovation agency Paris&Co have launched a call for experiment...

A globalised effort

Dr Elizabeth Pollitzer discusses the new mission for Gender Summit 9 Europe: the globalisation of the effort to address gende...

EU clarifies gender studies position

In response to a petition launched by the Gender Summit, the European Commission has confirmed additional funding for gender ...

ERC launches 2017 Consolidator Grant call

The European Research Council (ERC) has published the 2017 Consolidator Grant call, with an expected budget of €575m, worth...

Free trade fears

As progressive MEPs continue to campaign against TTIP and CETA, MEP Fabio De Masi speaks to Portal to outline opposition to t...

EU explores H2020 successor

The European Commission has begun exploring ideas for the successor to the Horizon 2020 funding programme. The commission has...

UK student becomes MSCA fellow

A student from the University of Cumbria, UK, has the opportunity to study a PhD at the prestigious Karolinska Institutet in...

Drug development project empowers patients

Uppsala University, Sweden, and Swiss pharma giant Novartis are leading the PREFER research project under the Innovative Medi...

Ysios Capital raises €126.4m biofund

Biotechnology venture capital firm Ysios Capital has announced the closing of its second fund, Ysios BioFund II Innvierte FCR...

ESA probe to land on Mars

The European Space Agency's (ESA) Schiaparelli probe is due to land on Mars later today after a seven-month journey through...

Maritime and fisheries database now online

Stakeholders interested in the maritime and fisheries field can now consult the new EASME database to find related projects a...

EU presents Mediterranean partnership 

The European Commission has proposed the first research partnership of its kind in the Mediterranean to increase food and wat...

EIT Digital and Milan develop aircraft technology

As part of EIT Digital's Advanced Connectivity Platform for Vertical Segments (ACTIVE), the Polytechnic University of Milan...

INTRAW meets for second workshop

Experts involved in the Horizon 2020-funded project INTRAW met recently to discuss how to enhance the European Union's Inte...