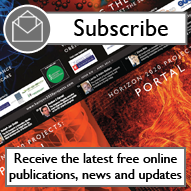 Project to deliver next-generation cloud service

Researchers at IMDEA Networks are working on the EU-funded project RECAP to develop th...

BSU to launch nanosatellite

Sergei Zolotoi, director of the Geoinformation Systems of the National Academy of Scie...

Irish minister welcomes H2020 success

The Irish minister of state for training, skills and innovation, John Halligan, has we...

Brain cell transplants could assist Parkinson's treatment

Researchers believe that replacing lost brain cells may help undo the damage caused by...

Irish SMEs to receive EU grants

Four Irish SMEs are to receive EU grants of €50,000 each under the latest round of H...

UK regions dominate H2020 funding

Recent figures have indicated that London and southeast England, UK, have collectively...

EIC to get Horizon 2020 'top-up

The European Innovation Council (EIC) is to receive €50m of an extra €200m expecte...

Commission supports self-driving technologies

The European Commission has confirmed its support for the fast deployment of self-driv...

SME develops dual-use technology

Italian SME Signo Motus has developed a fluid that when subjected to an electric field...

Study into chronic drug delivery gains approval

The Medical Products Agency (MPA) in Sweden has authorised Herantis Pharma PLC and R...

Food safety innovation wins Photonics21 award

A report on research into optical techniques to improve food safety by detecting possi...

Researchers develop yellow fever and rabies vaccine

The RABYD-VAX consortium, led by the University of Leuven (KU Leuven), Belgium, has be...

Graphene sieve makes seawater drinkable

New research has demonstrated the potential of providing clean drinking water to milli...

Biotech business to open protein processing facility

Salmon in Scotland will soon be fed with proteins recovered from the whisky producti...

Researchers develop printable graphene inks

New research has discovered that ink can be used to successfully ink-jet printable ele...