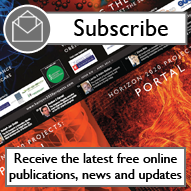 Tunisie Telecom secures loan

Tunisian telecom operator Tunisie Telecom has negotiated a financing agreement for €...

Europe increases Mars Rover funding

Europe is to continue its plan to put a UK-assembled robotic rover on the surface of M...

EGNOS team receives prestigious award

The multi-agency team behind the ESA-designed EGNOS augmentation system has received a...

Energy storage project receives funding

The Electrochemical Conversion of Renewable Electricity into Fuels and Chemicals (ELCO...

Horizon 2020 application success rate drops

An analysis of the first two years of Horizon 2020 has highlighted the growing competi...

Ireland's research fund continues to grow

Ireland's minister for training, skills and innovation, John Halligan, has announced...

Space ministers meet to decide fate of ExoMars

Europe's research ministers are meeting in Lucerne, Switzerland, to decide wheth...

Commission announces High Level Group members

The European Commission has announced the 12 members of the new High Level Group that ...

Saturn mission approaches final tour

The Cassini spacecraft is beginning the end phases of its mission to Saturn. Having sp...

Wastewater treatment project gains funding

The INNOQUA consortium, a project aimed at developing modular wastewater treatment s...

UK fusion lab faces uncertain future

A world-leading laboratory that has pioneered research in fusion energy for nearly 40 ...

Mars TGO probe returns first pictures

Europe and Russia's new satellite, the Trace Gas Orbiter (TGO), has sent back it...

Graphene-enhanced aircraft flies

Prospero, the first model aircraft to incorporate a graphene skinned wing, was success...

EU strengthens partnership with Indian Universities

Vice-chancellors and academic leaders of Indian universities and Higher Education Inst...

UCD to lead effort to tackle mental health

The University College Dublin (UCD), Ireland, has been chosen to lead a European netwo...