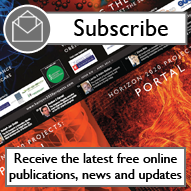 EU aquaculture group up and running

The EU's aquaculture group using advanced tools and research strategies for parasite...

AEOLIX enables shared logistics information

Over 100 logistic public authorities, transport companies, service providers and other...

EU funds non-animal testing lab

Leading non-animal testing researchers at the XCellR8 laboratory are now a step closer...

CIP deadline approaching

The deadline for KIC InnoEnergy's, Call for Innovation Proposals (CIP) is coming to ...

HBP receives boost from European Commission

A flagship project which launched a range of prototype computer platforms to support b...

6th EuCheMS Chemistry Congress inaugurated

The 6th EuCheMS Chemistry Congress has welcomed European authorities and industry repr...

ERC award grants to 325 researchers

The European Research Council (ERC) has announced the awarding of its Starting Grants ...

Researchers develop single photon LEDs

Researchers from the Graphene Flagship have used layered materials to create an all-el...

Woody biomass project starts in EU

BIOFOREVER, a consortium of 14 European companies, has announced the beginning of a ...

ERC funds crop immunity project

The European Research Council (ERC) has announced a €1.5m starting grant to investig...

EIT expands ARISE Europe programme

EIT Digital has announced HardGamma Ventures and the South Moravian Innovation Centre ...

Camera to assist low visibility surveillance

The Snapshot Spectral Imager for IR Surveillance (SEERS) project develops breakthrough...

Dundee University to produce citizen science

Dundee University, Scotland, is set to lead a €5m environmental project working w...

COST hosts ITS event

A conference in Žilina, Slovakia, aims to bring attention to the role of research org...

Science helping local livestock industry

During an international conference in Northern Ireland's capital Belfast, agricultur...