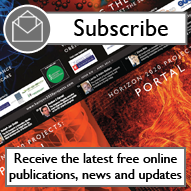 SMEs showcase innovations at summit

As part of the Innovators Summit in Brussels, Belgium, 20 European Small and Medium-si...

Knowledge sharing site for organic farmers

A new European initiative called OK-Net Arable has been launched to promote knowledge...

LERU and CE7 join forces

The League of European Research Universities (LERU), and a group of seven research uni...

EUW 2016 focuses on how to meet COP21 commitments

European Utility Week (EUW), has unveiled this year's conference programme. The even...

Project strengthens the role of universities

The Universitat Autònoma de Barcelona (UAB), Spain, is set to participate with six ot...

AfriAlliance hosts first innovation bridge event

The AfriAlliance team is organising its first of five Innovation Bridge Events (IBE) i...

Academics call for research programme ideas

A think tank set up by the Austrian government has called for simpler rules, more robu...

App ensures nutrition for CF Patients

As part of the European MyCyFAPP project, researchers are developing a digital suppo...

EI receives award for gender equality

The Earlham Institute's (EI) first submission to the prestigious Athena SWAN Charter...

TEDxCERN 2016: 'Ripples of curiosity'

The fourth TEDxCERN event is set to be hosted on 5 November and will feature talks by ...

'Juncker Plan' to benefit poorer EU members

The European Commission has announced plans to improve the geographical reach of its f...

Scientists publish 5,000th paper

Researchers at the UK's national synchrotron facility, Diamond Light Source (DLS), h...

Pilot projects to trial vehicle-to-grid technology

The SEEV4-City project aims to support the energy infrastructure through vehicle-to-gr...

Project develops sensing for tissue diagnosis

Integrated Spectrometers for Spectral Tissue Sensing (InSPECT) is designing a miniatur...

New MM treatment gains funding

SkylineDx has received Horizon 2020 funding to develop a gene-expression profiling te...