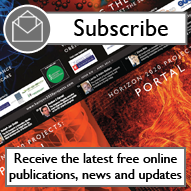 JRC begins Black Sea project

A major oceanographic campaign led by the EU's Joint Research Centre (JRC) has begun...

How bees navigate

Dr Andrew Bodey from Diamond Light Source in the UK discusses research at the facility...

EU expects 130,000 bioeconomy jobs

The EU is expecting a bioeconomy market worth €45bn, creating around 130,000 jobs by...

MSCA study could improve dental treatment

Research into the evolutionary changes in human jaws under the Marie Skłodowska-Curie...

H2020 funding to predict nanotoxicity

Scientists at the Helmholtz Zentrum München, Germany, have been awarded more than €...

MEPs divided over Juncker Plan progress

Members of the European Parliament have offered contrasting verdicts on the progress o...

UK science boosted by Horizon 2020

UK science and research has received a total of £1.8bn (~€2.25bn) in funding over t...

Biopharma to develop gene and cell therapies

Surveyed by the Economist Intelligence Unit (EIU) on how their companies will manage t...

EUROCITIES 2016 to be held in Milan

Milan, Italy, will host this year's EUROCITIES conference between 16-18 November, ta...

Ireland leading nanotech development

The Tyndall National Institute (TNI) is leading TOP-HIT (Transfer-print Operations for...

Regions unite for modernisation

The European Commission has launched the Smart Specialisation Platform (S3 Platform) f...

H2020 proposals workshop in Vienna

Europa Media Trainings (EMT) are hosting two one-day Horizon 2020 proposals workshops ...

KIC InnoEnergy reopens proposals call

KIC InnoEnergy is reopening calls for innovative European businesses looking for suppo...

EBN Innovation Network publishes growth report

Entitled 'EU|BIC Impact Report 2016' the Business and Innovation Centres network c...

Ministers debate future of education

Earlier this week national ministers met in the Belgian capital, Brussels, to discuss ...