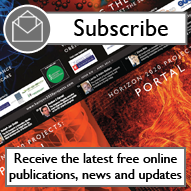 Network receives vascular health research grant

NattoPharma's International Research Network has received a €4m grant under the Ho...

PrimeFish project delivers its first results

From 4-6 April the European project PrimeFish, funded under the Horizon 2020 programme...

EU launches sustainable fisheries project

The EU has launched the ClimeFish project in an attempt to evaluate data streams to en...

Project to leverage potential of imaging biomarkers

The Innovative Medicines Initiative (IMI) has approved the five-year project TRISTAN f...

Study suggests closer EU-US food colour regulations

A new study has suggested that EU and US companies and consumers have much to gain fro...

Limerick University begins EU tax evasion project

Researchers at the University of Limerick (UL), Ireland, are to investigate tax and ...

EIT Digital launches 'Robot IoT Interface'

EIT Digital has announced the launch of 'Robot IoT Interface', a new activity with...

Project to deliver next-generation cloud service

Researchers at IMDEA Networks are working on the EU-funded project RECAP to develop th...

BSU to launch nanosatellite

Sergei Zolotoi, director of the Geoinformation Systems of the National Academy of Scie...

Irish minister welcomes H2020 success

The Irish minister of state for training, skills and innovation, John Halligan, has we...

Brain cell transplants could assist Parkinson's treatment

Researchers believe that replacing lost brain cells may help undo the damage caused by...

Irish SMEs to receive EU grants

Four Irish SMEs are to receive EU grants of €50,000 each under the latest round of H...

UK regions dominate H2020 funding

Recent figures have indicated that London and southeast England, UK, have collectively...

EIC to get Horizon 2020 'top-up

The European Innovation Council (EIC) is to receive €50m of an extra €200m expecte...

Commission supports self-driving technologies

The European Commission has confirmed its support for the fast deployment of self-driv...