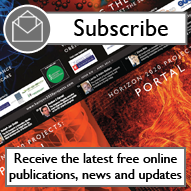 Project to unlock energy efficiency investments

The International Energy Research Centre (IERC) has been selected to co-ordinate a €...

Al to alleviate traffic in Manchester

Innovate UK has awarded the University of Huddersfield £850,000 (~€937,000) to test...

Project to enhance flow measurement standardisation

Consultancy firm NEL is to lead a research programme that will enhance flow measuremen...

Critical limb ischaemia study funded

Cell therapy company Pluristem Therapeutics has received funding to launch a phase thr...

Project to deploy art digitalisation

Art digitisation company Madpixel has been awarded over €1m under the Horizon 2020 p...

Brunel to cut industrial energy waste

Brunel University London, UK, is set to lead a new £700,000 (~€775,600) project to ...

Graphene Flagship to test space applications

Two experiments to test graphene's viability for space applications are to take plac...

Environment project receives funding

The 'ONE-FLOW' project has received €4m in funding under the Horizon 2020 progra...

Resolution to nationalise land around Süleyman's tomb

The Hungarian government has put forth a resolution to nationalise and protect the lan...

Start-up receives funds for salmon insect feed

UK Start-up Entomics Biosystems has been awarded £900,000 (~€995,850) from Innova...

Police seek funding for cryptocurrency research

National police forces in Europe are seeking funding for research on how to tackle ...

TC BioPharm receives EU funding

TC BioPharm (TCB) has received a €4m grant under the Horizon 2020 programme to advan...

Jodrell Bank receives listed status

Jodrell Bank's secondary radio telescope, located in Cheshire, UK, has been awarded ...

Türk Telekom funds 5G futures

Türk Telekom is playing a leading role in the development of the 5G technologies that...

Microalgae extraction made more effective

A €5m Horizon 2020 project aims to make microalgae extraction and cultivation more c...