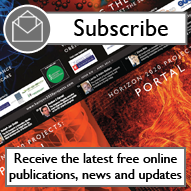 Poland: EIB invests €1bn

The European Investment Bank is lending Poland nearly €1bn to assist the country in ...

EU leads innovation report

Six EU member states have ranked in the top ten of a world innovation index, including...

'Assist SMEs', says minister

EU Internal Market and Industry ministers have focused on assisting SMEs at an informa...

Ministers discuss EU skills

European research ministers are set to discuss what skills are needed to guarantee EU ...

€22bn innovation investment

Máire Geoghegan-Quinn, European Commissioner for Research, Innovation and Science, ou...

Cymru's connections

Finance Minister Jane Hutt outlines Wales' plans for Horizon 2020 and how she hopes ...

LIBER/LERU in data discussion

Ligue des Bibliothèques Européennes de Recherche and the League of European Research...

COREPER talk H2020

The Committee of Permanent Representatives have confirmed the final compromise texts f...

The Lords' report

Baroness O'Cathain outlines the key findings of their inquiry into EU research and inn...

Willetts: H2020 deal

David Willetts, the UK Minister for Universities and Science, speaks to Horizon2020pro...

A truly green Horizon?

Philippe Lamberts MEP, research policy spokesman for the Greens/European Free Alliance...

New JTIs announced

Europe has announced investment worth €22bn for innovative industries. The money is ...

EU: €22bn for innovation

The European Commission, EU member states and European industry will invest more than ...

S&D reviews EU deal

Teresa Riera MEP, European Parliament rapporteur for the Horizon 2020 regulation, sets...

EPP welcomes H2020 deal

Christian Ehler MEP and Maria da Graça Carvalho MEP, two rapporteurs of Horizon 2020 ...