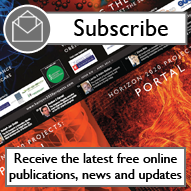 Dublin Declaration

Delegates at the 'Open Innovation 2.0' conference have agreed a ten-point declarat...

Luminary innovation

At the inaugural 'Innovation Luminary Awards', Dr Patrick Prendergast, the provost...

Changing Ireland

Richard Bruton, the Irish Minister for Jobs, Enterprise and Innovation, outlines how t...

Hawking: Innovation vision

Stephen Hawking told delegates to "Look up at the stars and not down at your feet"...

First Luminary awards

The first Innovation Luminary Awards have taken place at Trinity College Dublin during...

Open innovation

The Irish Minister for Jobs, Enterprise and Innovation, Richard Bruton, has opened the...

Future showcase

A two-day exhibition offering a technological insight into the future lives of citizen...

Innovation 2.0

Dublin Castle has opened its doors to the international 'Open Innovation 2.0' conf...

Summit: All-Ireland H2020

A number of strategies encouraging increased SME participation in Horizon 2020 have be...

All-Ireland body opens H2020 event

InterTradeIreland, responsible for encouraging economic and business links between Nor...

A research accedence

As Croatia nears accedence to the EU, Horizon2020projects.com talks to Željko Jovanov...

Dutch H2020 groups formed

The first consultative groups for Horizon 2020 in the Netherlands have been formed. Th...

EIT raises KICs' profile

The European Institute of Innovation and Technology has announced a number of key even...

Sherlock: EU budget deal

Seán Sherlock has said an agreement on EU spending on research and innovation must be...

Innovating Ireland

Addressing the Irish Senate, Máire Geoghegan-Quinn, the Commissioner for Research, In...