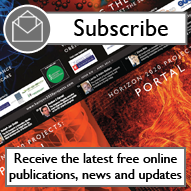 Scotland in H2020 plan

Scotland Europa has outlined further details on its plan for Horizon 2020 in a present...

Commission reveals admin award

The Commission has announced the winners of the European Prize for Innovation in Publi...

WIRE H2020 declaration draft

A new declaration intended to outline the legislative process for Horizon 2020 has bee...

LERU: agree H2020

LERU has called upon the EU institutions to finalise negotiations on Horizon 2020 and ...

Gago: 'we need investment'

The former Portuguese science and technology minister, José Mariano Gago, has called ...

UK universities: EU R&I pledge

UK universities have welcomed the European Parliament's commitment to effective invest...

WRIC opens

The inaugural World Research and Innovation Congress is being held in Brussels, Belgiu...

Science Europe: H2020 cost

Science Europe has called for clarification on the cost system for Horizon 2020. The a...

Flat rate disappointment

The EARTO has said it is disappointed by the publication of a European Commission pape...

Final remarks

As Seán Sherlock chairs his final meeting of the Competitiveness Council, the ministe...

Commission agrees flat rate

The European Commission has published a non-paper outlining plans to reimburse indirec...

Score Cymru launched

A new fund has been launched in Wales to assist businesses and organisations in applyi...

Europe 2020 on the horizon

European Commission President José Manuel Barroso outlines the importance of the Euro...

Progress in H2020 talks

Seán Sherlock has reaffirmed the prospect of agreeing Horizon 2020 after chairing his...

People central

European Commissioner for Education, Androulla Vassiliou, outlines to the 'Open Inno...