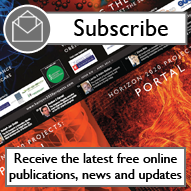 Major HE conference concludes

The 'European Higher Education in the World' conference has closed in Lithuania wi...

A 'puzzling' budget?

The European Budget Commissioner, Janusz Lewandowski, outlines his concerns over the C...

Starting up Europe

European Commission Vice-President Neelie Kroes addresses the Startup Europe Leaders C...

Lewandowski in new budget concerns

Janusz Lewandowski has expressed renewed concerns over the 2014 EU annual budget after...

Commissioner in Malta visit

Máire Geoghegan-Quinn, European Commissioner for Research, Innovation and Science, is...

EU begins iCapital competition

The European Commission has begun its search for the first iCapital. The prize will re...

The Maastricht generation

Máire Geoghegan-Quinn, European Commissioner for Research, Innovation and Science, ou...

Entrepreneurs studied

A survey has researched SMEs in Europe and United States and revealing that entreprene...

H2020 focuses on citizens

The European Commission is giving EU citizens a chance to have their say on the next r...

Scottish universities to keep UK funding

Scotland will still receive access to important UK research funding after gaining inde...

Participant portal webinar

A webinar on Horizon 2020 is set to take place in September. The online meeting will f...

Open access on rise

A new study has revealed that 50% of research publications are now available free of c...

H2020 in 'open access'

Horizon 2020 will encourage greater and more open access to published papers, accordin...

€488m for Irish researchers

Third-level Irish research institutions have benefited from €488m in an EU-based inv...

Finland focus

Dr Merja Hiltunen, of Finnish technology funding agency, Tekes outlines the recent dev...