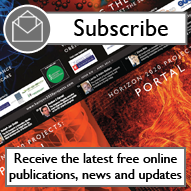 Flat rate disappointment

The EARTO has said it is disappointed by the publication of a European Commission pape...

Final remarks

As Seán Sherlock chairs his final meeting of the Competitiveness Council, the ministe...

Commission agrees flat rate

The European Commission has published a non-paper outlining plans to reimburse indirec...

Score Cymru launched

A new fund has been launched in Wales to assist businesses and organisations in applyi...

Europe 2020 on the horizon

European Commission President José Manuel Barroso outlines the importance of the Euro...

Progress in H2020 talks

Seán Sherlock has reaffirmed the prospect of agreeing Horizon 2020 after chairing his...

People central

European Commissioner for Education, Androulla Vassiliou, outlines to the 'Open Inno...

NI H2020 details released

The Northern Ireland Executive's Department for Enterprise, Trade and Investment has r...

Sherlock: 'Agree H2020'

The Irish Minister for Research and Innovation has said that the achievement of a poli...

EUA cost call

The EUA has called for a reimbursement model based on the recognition of the full cost...

Council meeting on H2020

Discussions are set to take place on Horizon 2020 as Ireland chairs its final Competit...

Ehler: full cost return

Christian Ehler MEP, a rapporteur for Horizon 2020, has called for the full reimbursem...

Innovation factory

Alexander von Gabain, the chair of the EIT, outlines the creation and development of E...

'Apply for funding'

The Commissioner for Research, Innovation and Science has urged businesses across the ...

Border trade

InterTradeIreland's Aidan Gough outlines how the organisation is encouraging busines...