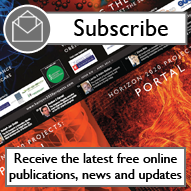 Vella meets European Marine Board

The EU commissioner for maritime affairs and fisheries, Karmenu Vella, has met with me...

EuropaBio: 'Science required in GMO safety'

Beat Späth, director of agricultural biotechnology at EuropaBio, has called upon the ...

EBRD provides Turkey with renewables funds

The European Bank for Reconstruction and Development (EBRD) has made USD 110m (~€98m...

SESAR 2020 begins exploratory research

The first SESAR 2020 exploratory research projects aiming to modernise air traffic man...

ESA calls for app developers

The European Space Agency (ESA) is calling for 20 developers to attend a Space App C...

Nobel Laureates appeal to Greenpeace

More than 100 Nobel Laureates have signed an open letter urging Greenpeace to cease op...

Calls for nanotech safety

The commercial use of nanotechnology is continuing to grow and expand, as are calls to...

H2ME develops hydrogen vehicle project

Hydrogen-powered vehicle use is set to expand in Europe with the development of the H2...

Forests on the catwalk

Paola Deda, chief of the forestry and timber section at UNECE, explains how forests ca...

World Green Building Council sets target

The World Green Building Council's (WorldGBC) 'Advancing Net Zero' initiative is...

High-tech turf improves pitch durability

Synthetic microfibres and cork are being combined with grass to provide a compound tha...

H2020 funds Orkney tidal energy project

The European Commission has recently awarded almost €4m in support of tidal energy t...

JRC begins Black Sea project

A major oceanographic campaign led by the EU's Joint Research Centre (JRC) has begun...

EU expects 130,000 bioeconomy jobs

The EU is expecting a bioeconomy market worth €45bn, creating around 130,000 jobs by...

Member states prepare for renewable energy

An Irish-led pilot project comprising 13 energy organisations and academic institution...