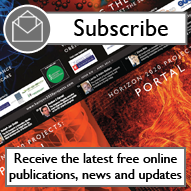 Supercomputer weather system 'heads to Italy'

Bologna, Italy, looks set to gain the next-generation supercomputer that will drive Eu...

Group gains support for tidal turbine technology

A European tidal energy consortium has secured funding for the research and developmen...

Project strives to transform transport

An international consortium of researchers is collaborating to transform transport acr...

New footage shows close-up of Larsen C ice shelf

The British Antarctic Survey (BAS) has released new footage of the Larsen C ice shelf ...

EU-funded project uses heat in new ways

Wind turbines or aircraft wings will soon de-ice themselves in extreme conditions, or ...

Marine Institute secures €6m

The Marine Institute, Ireland, has announced the creation of 20 new jobs at its Newpo...

EU funds 133 frontier research innovations

The European Research Council (ERC) has announced the winners of the latest Proof of C...

Prize set for EU clean air solution

The EU has set aside a €3m prize for material solutions with the hope of tackling ai...

EU keeps global leadership in solar energy

The EU has added 6.9 gigawatts (GW) of new net solar power capacity in 2015, reaching...

Liverpool secures funding for 'green corridors'

Liverpool City Council, UK, has secured £3.4m (~€4.1m) in funding to develop 'gre...

Study shows Earth's water over 32 years

Joint Research Centre (JRC) scientists and Google have collaborated and created intera...

InnoEnergy reveals master's graduates

The InnoEnergy Master's School, which offers students the opportunity to study engin...

InnoEnergy collaborates with Incubatenergy Network

InnoEnergy, the engine for sustainable energy across Europe, has formed a strategic pa...

Start-ups pitch innovations at TBB

This year's The Business Booster 2016 (TBB.) event has seen more than 150 start-...

Deep sea coral faces threat from climate change

A study has suggested that North Atlantic coral populations – key to supporting a va...