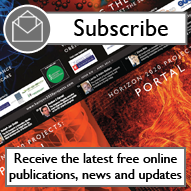 OBE for climate change exec

Professor Mary Ritter, chief executive of Climate-KIC, has been presented with an OBE ...

Climate-KIC placements

Climate change professionals are being encouraged to join Climate-KIC programme to be ...

Climate-KIC Acceleration Programme

Climate-KIC Germany has called on climate innovation start-ups to apply for their 2014...

Climate action calls indicated

A working document has been released providing provisional details of the calls for th...

€40m for resource efficiency research

The European Commission has approved funding for 14 new research projects to shape a m...

Climate culture

António Correia de Campos MEP, chair of the Science and Technology Assessment unit, a...

Adapting to tomorrow

Dr Jos Delbeke, director general of DG Climate Action in the European Commission, prov...

Establishing Biochar

Professor Yigal Elad of the Agricultural Research Organization in Israel outlines the ...

Green Denmark

Martin Lidegaard, the Danish Minister for Climate, Energy and Building, outlines the c...

KIC helps UK tackle power issues

The UK's National Physical Laboratory and Imperial College London are to receive fun...

Climate-KIC

Professor Mary Ritter, chief executive of Climate-KIC, outlines the role of Europe's...

Climate centre opens

A new research incubator to assist the development of solutions to climate change has ...

Climate shapes H2020

The European Commission announces the results of the 'EU Strategy on Adaptation to C...

New low-carbon call

The EU launches a further call for NER300 proposals, promoting the commercial demonstr...

2030 climate targeted

In a new announcement, the European Commissioner for Climate Action, Connie Hedegaard,...