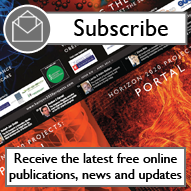 EUW 2016 begins in Barcelona

The annual landmark event of the European energy calendar, European Utility Week (EUW)...

Schneider Electric launches EcoStruxure Grid

Schneider Electric, the global specialist in energy management and automation, is set ...

Smartive receives innovative SME award

InnoEnergy-supported start-up wins coveted European Enterprise Network (EEN) award. S...

Smarter heating

Portal takes a look at district heating in Europe and speaks to Professor Jerker Delsi...

Antarctic project to find 'oldest ice'

Scientists have set out to try to find the oldest ice in Antarctica. They are seeking ...

Climate projection project begins

The EU-funded project APPLICATE, which aims at improving weather and climate projectio...

Fashion and the SDGs

The UN's Paola Deda argues that consumers and producers in the fashion world could m...

Textiles project to move into "sharing economy"

Launched in June 2015, Textile and Clothing Business Labs (TCBL) aims to innovate the ...

Gartner predicts smart cities will meet COP21 targets

According to Gartner, half of smart cities will put climate change as their headline K...

Researchers deploy wave energy device

The final section of a wave energy device has been installed by a research team in the...

Straightening the circular economy

The environment programme director at the European Academies Science Advisory Council,...

WaveBoost project secures EU funding

CorPower Ocean AB, a leading developer of high efficiency wave energy converters (WEC)...

Lake Bizerte project begins

The Integrated programme for the protection of Lake Bizerte against pollution was laun...

Climathon finds transport emissions solutions

Students, entrepreneurs, technical experts and app developers from a range of professi...

IBEX robot to revolutionise UK farming

A Leicester county inventor has designed a robot that could revolutionise UK farming....