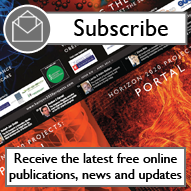 EU keeps global leadership in solar energy

The EU has added 6.9 gigawatts (GW) of new net solar power capacity in 2015, reaching...

Liverpool secures funding for 'green corridors'

Liverpool City Council, UK, has secured £3.4m (~€4.1m) in funding to develop 'gre...

Study shows Earth's water over 32 years

Joint Research Centre (JRC) scientists and Google have collaborated and created intera...

InnoEnergy reveals master's graduates

The InnoEnergy Master's School, which offers students the opportunity to study engin...

InnoEnergy collaborates with Incubatenergy Network

InnoEnergy, the engine for sustainable energy across Europe, has formed a strategic pa...

Start-ups pitch innovations at TBB

This year's The Business Booster 2016 (TBB.) event has seen more than 150 start-...

Deep sea coral faces threat from climate change

A study has suggested that North Atlantic coral populations – key to supporting a va...

Surprisingly renewable energy

KIC InnoEnergy's Dr Roland Doll outlines the efforts being made by Marin Biogas to h...

EUW 2016 comes to an end

European Utility Week (EUW), the leading event for the smart utility community, has ce...

InnoEnergy start-up wins WWL Orcelle award

Turbulent, a sustainable energy start-up supported by InnoEnergy – the innovation en...

Agreeing to disagree

Patrick Clerens, Secretary General of the European Association for Storage of Energy d...

Engine turns waste hot water into electricity

Exergyn has developed and patented an engine that can generate electricity from waste ...

EUW and Engerati host European Industry Utility Awards

Day two of European Utility Week (EUW) 2016 began with a look at changes in the indust...

Researchers develop world's fastest gas detector

European scientists are set to develop a multi-gas detector that could spot dozens of ...

EUW 2016 achieves impressive turnout

The first day of European Utility Week (EUW) 2016 is declared a success as a staggerin...