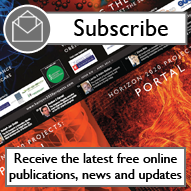 Rapid drink cooler developed

RapidCool have developed a low energy use, low cost rapid cooling technology that enab...

KIC energy innovation call

The European Institute of Innovation and Technology's KIC InnoEnergy has announced c...

Biofuels boost

The Carbolea Group's Dr Michael Hayes sets out his thoughts on Horizon 2020 followin...

ITER's cranes under construction

Fusion for Energy has signed a contract with the NKMNOELL-REEL consortium for the desi...

The DIBANET process

Dr Daniel Hayes of the Carbolea Group at the University of Limerick, Ireland, outlines...

Solar Scalenano

IREC outlines the objectives of the FP7-funded Scalenano project, which it hopes will ...

Fuel cells and Hydrogen PPP

A body representing Europe's hydrogen and fuel cell industry has welcomed the Europe...

H2020 deal 'good for energy'

EUREC has described the deal on Horizon 2020 as a "good outcome for energy technolog...

Fuelling the future

With a growing energy crisis in Europe, Vinicius Valente, communications officer at th...

EC in calls launch

The European Commission is ready to launch calls for Horizon 2020 from the end of the ...

Energy investment needed

The CEO of Italy's largest power company, Enel, has called for greater investment in...

Lords: More money for energy

The House of Lords in the UK parliament has concluded that €1 trillion of investment...

Nuclear centre launched

The Commission has launched a new nuclear safety training facility, EUSECTRA, to help ...

Wind energy "key"

The European Wind Energy Association's regulatory affairs adviser, Vilma Radvilaitė...

Nuclear talks held

The 'NucIear Fission Research for a Low Carbon Economy' conference, a two-day symposiu...