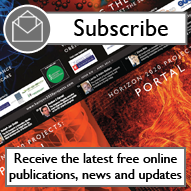 Ameland adopts bird-friendly street lighting

Philips Lighting has announced a bird-friendly connected light-emitting diode (LED) s...

InnoEnergy calls for next innovation in sustainable energy

InnoEnergy is calling on energy innovators to apply for its 2017 Investment Round prio...

JRC releases 2016 Wind Energy Status Report

The Joint Research Centre (JRC) has released its Wind Energy Status Report 2016, prese...

Wave power prototypes receive funding

Two firms in Scotland have secured £2.5m (~€2.8m) to trial prototype technology whi...

Companies collaborate to develop hydrokinetic turbines

DesignPro ltd and GKinetic Energy Ltd in Ireland are collaborating to develop a new ...

Freiburg leads smart city initiative

Under the direction of the city of Freiburg im Breisgau, Germany, over 60 partners fro...

Bosnia could miss out on EU energy project funding

Bosnia and Herzegovina risks losing millions of euros for energy projects from the EU ...

Natural refrigerants awarded for energy efficiency

European project ProCold has recognised the most efficient and climate-friendly refrig...

Project to recharge electric vehicles whilst on the road

A unique wireless electrification system is to be piloted on a bus route in Tel Aviv, ...

Research projects to boost urban energy efficiency

Cardiff University, Wales, has secured almost £1m (~€1.15m) in EU funding for thre...

Researchers aim to halve CO2 footprint of carbon fibre

Researchers from across Europe, led by the University of Limerick (UL), Ireland, have ...

Group gains support for tidal turbine technology

A European tidal energy consortium has secured funding for the research and developmen...

Project strives to transform transport

An international consortium of researchers is collaborating to transform transport acr...

EU-funded project uses heat in new ways

Wind turbines or aircraft wings will soon de-ice themselves in extreme conditions, or ...

Project aims to improve solar-based hydrogen

The technology demonstration of large-scale photo-electrochemical system for solar hyd...