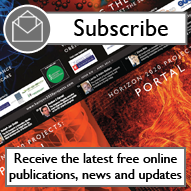 EU-funded project uses heat in new ways

Wind turbines or aircraft wings will soon de-ice themselves in extreme conditions, or ...

Project aims to improve solar-based hydrogen

The technology demonstration of large-scale photo-electrochemical system for solar hyd...

Project completes volcanic drilling

The drilling of the world's deepest geothermal well has been completed on Reykjanes ...

InnoEnergy's Investment Round now open

InnoEnergy has launched its 2017 Investment Round, which aims to discover, support and...

Smart solutions

Chief strategy officer at geo Simon Anderson tells Portal about how new solutions are ...

Enabling the transition

Christian Buchel, vice-chairman of EDSO, discusses the role of distribution systems op...

Getting smarter

Eric Woods, research director at Navigant Research, spoke to Portal about how smart ci...

The digital transition

Christian Pilgaard Zinglersen, Deputy Permanent Secretary at the Danish Ministry of En...

Fuelling the future

Executive director of the Fuel Cells and Hydrogen 2 Joint Undertaking Bart Biebuyck me...

Turbine project secures second funding round

A group led by turbine supplier Atlantis Resources has received a €20.3m grant from ...

Study aims to satisfy energy needs

A group of researchers is aiming to develop a novel way to satisfy Europe's energy n...

InnoEnergy invests in NexWafe's solar technology

InnoEnergy, the innovation engine for sustainable energy, has committed €2m to NexWa...

EU keeps global leadership in solar energy

The EU has added 6.9 gigawatts (GW) of new net solar power capacity in 2015, reaching...

InnoEnergy partners with ÖBO

InnoEnergy has signed a strategic partnership with ÖrebroBostäder AB (ÖBO), a real ...

InnoEnergy reveals master's graduates

The InnoEnergy Master's School, which offers students the opportunity to study engin...