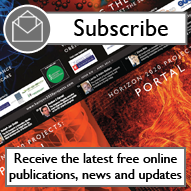 Ulster leads healthcare research project

Ulster University, Northern Ireland, is set to lead a multidisciplinary, international...

'Rigvir' could double cancer survival rates

Scientists in Latvia have developed a new treatment for cancer virotherapy called 'R...

Light-listening photonics could detect disease

A new skin disease detection technique, termed 'optoacoustic mesoscopy', could hel...

ComaWare project could enable communication

Experimental technology developed under the Horizon 2020-funded ComaWare project could...

ProQR announces CF clinical testing

ProQR Therapeutics plans to announce proof-of-concept results from tests of QR-010, it...

Microscope to cut blood poisoning deaths

European scientists have invented a microscope that will allow the detection of life-t...

Nanosensors for Alzheimer's diagnosis

To facilitate diagnosis, researchers have generated a new tool for detecting protein c...

JRC studies tattoo safety

The Joint Research Centre (JRC) has published a study aiming to find scientific eviden...

Germany joins ELIXIR consortium

Germany has become the latest country to join the ELIXIR consortium following ratifica...

Project profile: JAXPERTISE

Through EU funding, Professor Natalie Sebanz of the Central European University (CEU) ...

Project profile: EUREST-PLUS

The European Regulatory Science on Tobacco: Policy implementation to reduce lung disea...

Students respond to business challenges

International students have come together in London, UK, to face challenges set by com...

Netherlands GreenTech calls for participants

The European bioeconomy and Dutch GreenTech firms are promoting three events to kick-s...

EU Report: Does noise pollution increase depression?

Environmental noise such as that from aeroplanes, industry and traffic is likely to ca...

The future is floral

Pan European Networks undertook some research into the unusual development of robotic ...