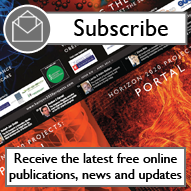 Photoacoustic technique to detect breast cancer

Researchers at the University of Twente, the Netherlands, have developed a new system ...

BiondVax to advance universal flu vaccine

Pharmaceutical company, BiondVax, has secured a €20m loan from the European Investme...

Project to search for cardiac arrest causes

The European Sudden Cardiac Arrest network (ESCAPE-NET) has been created to find sudde...

Biotech company wins Horizon 2020 funding

Early-stage biotechnology company Valitacell has won €2.02m in funding under the l...

EU-China food safety project awarded €10m

The European Union's H2020 programme and the Chinese Ministry of Science have been a...

EU cancer project to publish research

EU technological rehabilitation researchers are to present their findings on technolog...

Research reveals new insights into Alzheimer's disease

Research led by the University of Hertfordshire, UK, could significantly change the un...

Project suggests citizen-based research possible

Following the release of 23 citizen-based suggestions for Horizon 2020, the CIMULACT p...

Researchers to use maths to support wellbeing

A De Montfort University (DMU) Leicester, UK, researcher has received a €183,000 gra...

Innovative microscope to fight against disease

Ireland-based start-up SiriusXT is in the final stages of developing an innovative new...

Project to begin human trials for kidney disease treatment

An EU investigation into new treatments for diabetic kidney disease has advanced from ...

Endoscope to target colon tumours

A group of scientists are working on the development of an innovative and easy to use ...

Researchers study how alcohol affects arrhythmias

Researchers working at the Oktoberfest in Munich, Germany, have found that higher bre...

Project to develop innovative liver dialysis machine

The European Association for the Study of the Liver (EASL) has announced that ALIVER w...

Network receives vascular health research grant

NattoPharma's International Research Network has received a €4m grant under the Ho...