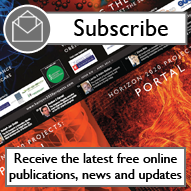 Project to leverage potential of imaging biomarkers

The Innovative Medicines Initiative (IMI) has approved the five-year project TRISTAN f...

Study suggests closer EU-US food colour regulations

A new study has suggested that EU and US companies and consumers have much to gain fro...

Brain cell transplants could assist Parkinson's treatment

Researchers believe that replacing lost brain cells may help undo the damage caused by...

Study into chronic drug delivery gains approval

The Medical Products Agency (MPA) in Sweden has authorised Herantis Pharma PLC and R...

Food safety innovation wins Photonics21 award

A report on research into optical techniques to improve food safety by detecting possi...

Researchers develop yellow fever and rabies vaccine

The RABYD-VAX consortium, led by the University of Leuven (KU Leuven), Belgium, has be...

Project to manufacture nanomedicines

Precision NanoSystems' NanoAssemblr™ platform has been selected for the contro...

Imaging project offers applications in cancer diagnostics

Innovative medical device contractor ITL Group has partnered with King's College Lon...

Bioart exhibition showcases microbiology research

Microbe Stories, hosted in London, UK, is now exhibiting artwork from Anna Dumitriu, a...

Funding to progress diabetes monitor

RSP Systems, a Denmark-based non-invasive human diagnostics specialist company, has be...

Augmented reality visor to assist doctors

Scientists are to develop an augmented reality (AR) surgical visor capable of superimp...

MSCA researchers selected to showcase EU actions

To mark the 100,000th fellow benefitting from the Marie Skłodowska-Curie Actions (MSC...

Researchers develop device for diagnosis of oesophageal cancer

The Institute of Biological and Medical Imaging (IBMI) at Helmholtz Zentrum München, ...

Project to analyse cognitive ageing

A new project funded under Horizon 2020 is set to identify the risk and protective fac...

UCD takes lead on ophthalmic research

The University College Dublin (UCD), Ireland, is to lead a new international industry-...