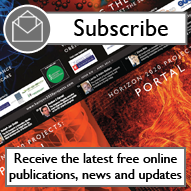 Smarter heating

Portal takes a look at district heating in Europe and speaks to Professor Jerker Delsi...

Antarctic project to find 'oldest ice'

Scientists have set out to try to find the oldest ice in Antarctica. They are seeking ...

Scientists develop model of human lung

Scientists at the Children's Hospital Los Angeles, US, have developed a tissue-e...

Climate projection project begins

The EU-funded project APPLICATE, which aims at improving weather and climate projectio...

Fashion and the SDGs

The UN's Paola Deda argues that consumers and producers in the fashion world could m...

Shift2Rail projects fully operational

The Shift2Rail Joint Undertaking (S2R JU) has announced that the last grant agreement ...

Textiles project to move into "sharing economy"

Launched in June 2015, Textile and Clothing Business Labs (TCBL) aims to innovate the ...

Greener buses tackle UK emissions

A new generation of low emission buses is already saving 55,000 tonnes of greenhouse g...

Scientists aim to develop safer X-ray detectors

A novel photonics technology is being developed to produce a set of low radiation, low...

Agroecology in practice

Samuel Féret, EU co-ordinator of ARC2020, talks to Portal about how agroecological ap...

Gartner predicts smart cities will meet COP21 targets

According to Gartner, half of smart cities will put climate change as their headline K...

Researchers deploy wave energy device

The final section of a wave energy device has been installed by a research team in the...

Sensor accelerates deadly bacteria detection

The risk of catching Legionnaires' disease from air conditioning units has been dram...

A perfect storm

Globally, one child per million is diagnosed with high-risk neuroblastoma every year. ...

Researchers develop marine biodiversity tools

More than 250 European researchers have collaborated in developing new tools to unders...