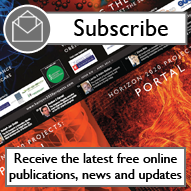 Research tool makes energy planning easier

An EU-funded research project has launched a tool that enables European governments an...

MSCA researchers selected to showcase EU actions

To mark the 100,000th fellow benefitting from the Marie Skłodowska-Curie Actions (MSC...

ESA's Sentinel-2B launched into space

Europe has launched its latest Earth observation (EO) satellite, a spacecraft that wil...

Researchers develop device for diagnosis of oesophageal cancer

The Institute of Biological and Medical Imaging (IBMI) at Helmholtz Zentrum München, ...

Researchers aim to halve CO2 footprint of carbon fibre

Researchers from across Europe, led by the University of Limerick (UL), Ireland, have ...

Supercomputer weather system 'heads to Italy'

Bologna, Italy, looks set to gain the next-generation supercomputer that will drive Eu...

Group gains support for tidal turbine technology

A European tidal energy consortium has secured funding for the research and developmen...

Project to analyse cognitive ageing

A new project funded under Horizon 2020 is set to identify the risk and protective fac...

UCD takes lead on ophthalmic research

The University College Dublin (UCD), Ireland, is to lead a new international industry-...

Project to fight insect-related diseases

UK research organisation the Pirbright Institute is to play an integral role in an int...

Breast cancer test receives vital funding

OncoMark, a University College Dublin (UCD), Ireland, spin-out company focused on the ...

Supercomputer to provide access to water, energy and the internet

A new machine called the 'Watly' is to offer solutions for ensuring access to clea...

Project strives to transform transport

An international consortium of researchers is collaborating to transform transport acr...

New footage shows close-up of Larsen C ice shelf

The British Antarctic Survey (BAS) has released new footage of the Larsen C ice shelf ...

Risky study helps treat MS

A clinical trial led by Imperial College London (ICL), UK, has revealed the potential ...