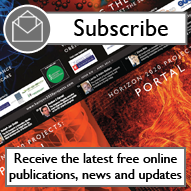 InnoEnergy launches 'game-changing' impact programme

InnoEnergy, the innovation engine for sustainable energy, has partnered with The GC In...

Taxi industry launches organisation to compete with Uber

MEPs and stakeholders have launched an organisation aimed at protecting the rights of ...

Researchers revive ancient crops to encourage diversity

Farmers who grow single crops are particularly vulnerable to the effects of climate ch...

Researchers study how alcohol affects arrhythmias

Researchers working at the Oktoberfest in Munich, Germany, have found that higher bre...

InnoEnergy releases econometric models for energy regulators

InnoEnergy, together with FUNSEAM and the Chair of Energy Sustainability at the Univer...

Iceland volcano project completes drilling

Geologists and engineers have successfully drilled into a volcano in Iceland as part o...

Research shows SME office culture top with Irish workers

Research has found that almost 70% of Irish workers would like to work in a small to m...

Driverless car trials in UK receive funding boost

Connected and autonomous vehicle technology in the UK will take another step forward ...

Project to develop innovative liver dialysis machine

The European Association for the Study of the Liver (EASL) has announced that ALIVER w...

Irish researchers secure funding for climate studies

Ireland's Environmental Protection Agency (EPA) has revealed that 41 Irish researche...

Scheme encourages drivers to swap cars for bikes

Reading Borough Council, UK, is to launch a new scheme that will offer rewards for cyc...

NUIG research projects receive funding

Eight research projects underway at NUI Galway, Ireland, have been awarded a total of ...

Network receives vascular health research grant

NattoPharma's International Research Network has received a €4m grant under the Ho...

PrimeFish project delivers its first results

From 4-6 April the European project PrimeFish, funded under the Horizon 2020 programme...

EU launches sustainable fisheries project

The EU has launched the ClimeFish project in an attempt to evaluate data streams to en...