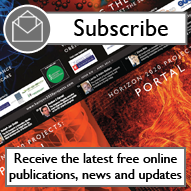 Francis Crick Institute welcomes scientists

The new Francis Crick Institute in London, UK, has welcomed its first set of scientist...

EDSO partner with European Utility week

This year EDSO for Smart Grids (EDSO), the European sector association representing el...

Ulster leads healthcare research project

Ulster University, Northern Ireland, is set to lead a multidisciplinary, international...

Researchers: 'Multilingualism is vital for an inclusive EU'

Researchers studying the link between multilingualism and social cohesion say multilin...

'Rigvir' could double cancer survival rates

Scientists in Latvia have developed a new treatment for cancer virotherapy called 'R...

Researchers aim for versatile street lights

Companies have been devising cheaper ways of powering street lights, and of allowing t...

UCC-led MARIBE seeks €120m funding

The University College Cork (UCC)-led Marine Investment in the Blue Economy (MARIBE) ...

Light-listening photonics could detect disease

A new skin disease detection technique, termed 'optoacoustic mesoscopy', could hel...

Scientists record ocean microplastics

Scientists at the National Oceanography Centre (NOC) have produced a unique study prov...

ComaWare project could enable communication

Experimental technology developed under the Horizon 2020-funded ComaWare project could...

Airlander 10 damaged during flight

The world's longest aircraft, the Airlander 10, has been damaged after nose-divi...

ProQR announces CF clinical testing

ProQR Therapeutics plans to announce proof-of-concept results from tests of QR-010, it...

Removing barriers key to climate targets

The World Energy Council (WEC) reports that the COP21 energy objectives could be met i...

Microscope to cut blood poisoning deaths

European scientists have invented a microscope that will allow the detection of life-t...

Nanosensors for Alzheimer's diagnosis

To facilitate diagnosis, researchers have generated a new tool for detecting protein c...