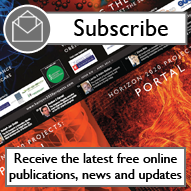 Manchester rises in university world rankings

The University of Manchester, UK, has risen six places in global rankings, confirming ...

Young people could win trip to COP22

Young people are being offered the chance to shape a sustainable future and win a trip...

Students respond to business challenges

International students have come together in London, UK, to face challenges set by com...

SuperBIO partners to support EU bioeconomy

SuperBIO, an innovation consortium supported through the EU Horizon 2020 funding progr...

EU Nature policies don't reverse farmland birds decline

New research by BirdLife Europe and partners shows that EU Nature policies can help to...

Netherlands GreenTech calls for participants

The European bioeconomy and Dutch GreenTech firms are promoting three events to kick-s...

Project profile: 3DUNDERWORLD

Cypriot scuba diver Charalambos Poullis considered the difficulties for marine archaeo...

Commission awards €32m for market access

The European Commission is awarding €32m to accelerate the movement of innovative id...

EU calls for independent experts

The European Commission is calling for independent experts to analyse and evaluate Hor...

EU Report: Does noise pollution increase depression?

Environmental noise such as that from aeroplanes, industry and traffic is likely to ca...

Cities studied for urban planning

Ten European cities were studied to provide guidance for mapping urban ecosystems, inc...

The future is floral

Pan European Networks undertook some research into the unusual development of robotic ...

IR Prize nominations available

The Innovation Radar (IR) is an initiative supported by the European Commission to ide...

Aviation industry drives digital transformation

The digital revolution has opened the world up to all. No sector has contributed more ...

Cray supercomputers pilot JULIA system

Cray, a German supercomputing company, is piloting its JULIA system in the Pre-Comme...