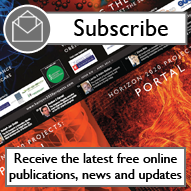 Report highlights offshore wind innovation

50 offshore wind innovations have been identified for substantial renewable market imp...

Cities pilot waste management solutions

The UrbanWins project is set to begin pilot studies in six European countries to explo...

Intelligent trousers set to assist the disabled

An international, multidisciplinary team of researchers are aiming to develop an intel...

EORTC partners with IBBL

The European Organisation for Research and Treatment of Cancer (EORTC) and Integrated ...

Study maps potential of 'energy citizens'

According to new research, half of EU citizens could be producing their own renewable ...

Scanning mirror helps create 3D eyewear

Leading 3D capture and imaging innovator Fuel3D is set to introduce 3D scanning mirror...

Researchers probe e-cigarette risks

As electronic or e-cigarettes grow in popularity, scientists have been attempting to f...

EI collaborates with Icelandic data centre

The Earlham Institute (EI), UK, has announced its new partnership with Verne Global, a...

Stylianides launches EU aid programme

European Commissioner for Humanitarian Aid and Crisis Management Christos Stylianides...

Industry gathers for energy labels anniversary

Industry players have gathered to consider how innovative packaging labels for ...

Ireland announces €68m medical research centre

A new centre for medical device research representing the partnership between Irish un...

Researchers develop 3D protein models

Researchers have developed new microscopic techniques capable of achieving accurate 3D...

EU probe to 'close data gaps' on building energy use

In a bid to improve energy efficiency, a project backed by the European Commission wil...

Cloud-based deployment in Sweden

Silver Spring Networks has announced plans to expand its public cloud network, data se...

Cancer rehabilitation receives €2.1m

The University College Dublin (UCD), Ireland, is set to lead a €2.1m European connec...