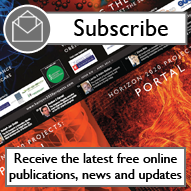 SSH survey launch

The 2013 Lithuanian Presidency of the Council of the European Union has launched a con...

Entangled Balkans?

Professor Roumen Daskalov of Central European University outlines how his 'Entangled...

€150m for brain research

The European Commission earmarks €150m of funding for 20 new international brain r...

Climate centre opens

A new research incubator to assist the development of solutions to climate change has ...

Healthy funding

Dr Mark Tangney of Cork Cancer Research Centre outlines the vitality of EU research gr...

Nuclear centre launched

The Commission has launched a new nuclear safety training facility, EUSECTRA, to help ...

EU funds malaria test

The EU's FP7 has funded the development of a new test for malaria using nanotechnology...

MEP backs marine growth

The European Parliament's Committee on Regional Development passes Seán Kelly's opini...

Green power bio-hub

The EU's new Bioeconomy Observatory will monitor the conversion of waste-to-fuel as ...

Wet science

With extensive experience of working with the EU on the successful FP7 project, Aquafi...

Europe's seas

Maria Damanaki, Commissioner for Maritime Affairs and Fisheries, outlines the role the...

Climate shapes H2020

The European Commission announces the results of the 'EU Strategy on Adaptation to C...

IPM's EIP

The European Commission's Directorate-General for Health and Consumers defines how a...

Interconnected transport

Research, Innovation and Science Commissioner, Máire Geoghegan-Quinn, has outlined th...

Humanities in H2020

Horizon2020projects speaks to Dr Nina Kancewicz-Hoffman, senior science officer in hum...